New York Times
Pickers to Vintners: A Mexican-American Saga
By Eric Asimov
Published: Sunday, October 17, 2004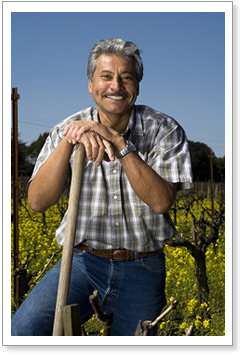 NAPA, Calif. - When Amelia Morán Ceja and her brother-in-law Armando Ceja look out at the vineyards around her house, they can also see the past, when their fathers traveled from Mexico to harvest fruit in stifling heat for meager wages. Ms. Ceja can still feel the grape juice on her hands, made raw from helping her father tend the vines in fields just like these.
But now the Ceja family owns its own vineyards and produces critically praised wines, a global emblem of the good life.
Over the past few years the first fine wines made by former migrant workers, the children of those workers and other Mexican-Americans have been released, winning good reviews. All told, there are more than a dozen such labels. Fifteen years ago there were none. Mexican-Americans have also become managers or winemakers for important vineyards.
The California wine industry was built on the backbreaking labor of a largely Mexican seasonal work force. But the rise of the fine-wine business created a growing demand for year-round workers with special skills in Napa and other regions. Many former migrant workers settled down in wine country. They sent their children to school and taught them how to tend the vines. Some saved money and bought land, and soon began growing their own grapes.
Ceja Vineyards' first wines came out in 2001. Their tales are new versions of a familiar story, in which the children of immigrants, by working hard and celebrating the virtues of family, achieve the American dream of ownership. These immigrants, though, came with even less than, say, the Gallos or the Mondavis. And unlike those families, they did not come from a land with a great tradition of winemaking. Like the dishwashers in a fancy restaurant, the Mexican field workers have long been invisible players in the history of the wine industry, hired to do the work that Americans would not or could not do themselves.
Today the wine industry uses far fewer seasonal workers than it did 25 years ago, said Karen Ross, president of the California Association of Winegrape Growers in Sacramento. Still, an overwhelming proportion of the field workers in the wine industry - 98 percent - are Mexican.
It was not always that way. Until World War II the field workers were Americans, an image immortalized by John Steinbeck. But when the draft caused a shortage of agricultural workers, the Mexican and American governments collaborated on the bracero program, which brought Mexicans to the United States for field work.
Ms. Ceja's father, Felipe Morán, first came to the United States in 1947. Pablo Ceja, the father of her husband, Pedro Ceja, and her brother-in-law Armando, worked in the bracero program for many years. Typically the migrants would work their way up the West Coast, following the harvest of grapes, pears, plums, cherries and apples before returning to their families in Mexico.
Some liked California so much that they decided to stay. It helped if they had particular skills that were useful year-round. Mr. Morán was a mechanic.
"I didn't speak a word of English when I arrived here," said Ms. Ceja, who was 12 when Mr. Morán relocated his family to the Napa Valley in 1967. "Neither did Armando or Pedro, but that wasn't an obstacle."
As a boy, Armando Ceja hung out with his brothers among the vines while his father worked.
"Growing up in the vineyards, you understand it from the ground up," he said. "It's second nature: plant, prune, grow, succor, harvest. When the fruit goes away, it leaves kind of a void." He is now the winemaker for Ceja Vineyards.
As with many immigrant families, the Cejas and the Moráns had ambitions for their children and encouraged them to get an education. Amelia Ceja studied history and literature at the University of California, San Diego. Armando Ceja studied winemaking at the University of California, Davis, which has perhaps the nation's leading program.
In 1983 the Cejas - Amelia, Pedro and Armando - bought 15 acres in the Carneros, the gently rolling hills southwest of the city of Napa, with Pablo Ceja and his wife. They now own 113 acres of vineyard, including the 20 acres that surround the house Amelia and Pedro Ceja share with their three children. Through the 1990's Armando Ceja managed the vineyards, while Amelia worked in marketing and sales at the Rutherford Hill Winery. In 1998, when the Cejas decided they were ready to strike out on their own as winemakers, Ms. Ceja quit her job to devote herself to Ceja Vineyards.
"To give up everything and to start a wine production company is very scary," she said.
Making wine requires money for barrels and bottles, for labor and for a place to do the work. And starting up is tricky, especially for fine wines, because the product must be stored for a few years or more before it can be sold and start to offer a return on the investment.
"We're able to do it because our vineyards subsidize our wine production," Ms. Ceja said. Of their 113 acres, the Cejas keep only 10 to 15 percent of the grapes for their own use, selling the rest to other wineries. They produce about 5,500 cases a year.
The Ceja wines include a creamy-textured, minerally chardonnay; an elegant and compact pinot noir; an excellent cabernet sauvignon; and two exceptional blends, one red and one white, that they call Vino de Casa. The single varietals sell for $28 to $38 a bottle, the blends for $18.