Sometimes referred to as a Spanish doughnut, churros are fried-dough pastry-based snacks, sometimes made from potato dough, that originated in Spain. Dalia Ceja prepares her version of this satisfyingly delicious treat that has become hugely popular all over Latin America. Paired with Ceja Vineyards Cabernet chocolate sauce, these churros have something sweet for everyone. Suggested Wine Pairing: Ceja Vineyards Napa Valley Cabernet Sauvignon

From Mexico we bring you tortilla soup! Presented in a unique way by Dalia Ceja, this savory soup with spicy and smoky elements is a perfect accompaniment to any cold night. Suggested wine pairing: Ceja Vineyards Carneros Pinot Noir

Long a favorite from the Mexican state of Jalisco, tortas ahogadas have satisfied countless adventurous eaters. Dalia Ceja serves up this "drowned" dish using traditional birote bread, chicken breast and an assortment of veggies that's topped off with tomato and chile de arbol salsa. What's your favorite type of torta ahogada?

Why throw away day-old bread when you can turn it into yummy bread pudding! Also known as "broodpudding", "Capirotada," "Migas" and "Pudín de Pan", this tasty dish is revered all over the world. In this episode, Dalia Ceja complements the bread pudding with Ceja Vineyards' Cabernet Chocolate Sauce as well as Ceja's Cabernet Sauvignon.

Using the base pesto sauce she made in Part 1, Dalia Ceja creates three delectable dishes: sun-dried tomato and a bow-tie spicy cilantro pasta and Parmesan bruschetta. Dalia then pairs these tasty treats with Ceja Vineyards' Carneros Pinot Noir.

Dalia Ceja prepares homemade pesto in this episode. The flavors are savory and tangy. Ceja Vineyards Vino de Casa Red Blend is called upon to liven things up!

Beans and wine you ask? Well, here at Ceja we get down and grub on the nontraditional food and wine pairings…and why not? Growing up in a Mexican household, beans, tortillas and rice have been a staple of ours since I can remember. They have also played a stereotypical role in American culture that have downgraded the authenticity of beans giving them a bastardized symbol of a poor mans Tex-Mex meal. I happen to think otherwise.
I have been cooking alongside my mom since I was a little girl. I remember standing on a stool next to the kitchen counter using both hands to stir the pot of arroz con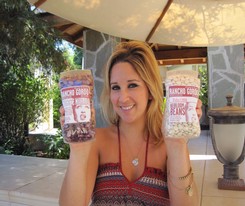 leche or Mexican hot chocolate, as tantalizing smells of cinnamon and sweetness infiltrated our kitchen. From that moment on I knew that food would always play an integral role in my life where wine would slowly make its grand entrance down the road.
However, given that I come from a huge extended family, fiestas and gatherings were always a prominent excuse to bring the goods to the table: homemade tamales, chiles rellenos, sopes, enchiladas, salsas, flan and so much more. Funny enough, there was as much food on the table as there was wine. Yep, more wine than beer or margaritas.
Now, when it comes to pairing wine with Mexican food, the most important rule to remember is to just drink and eat what you like! Although this rings true for many of us, there are some Mexican dishes that just plain taste better with certain wines. Here are some of my foolproof combinations that I absolutely love (all dishes are available under the recipes tab on our website).
*Mole Negro de Oaxaca paired with Ceja Syrah
*Salmon Ceviche paired with Ceja Pinot Noir
*Camarones a la Dalia paired with Ceja Chardonnay
Stay tuned for weekly mouthwatering recipes that will leave you begging for more…
¡Ole!
Dalia Ceja

Dalia Ceja takes you on a hot and spicy adventure with two of her favorite summer recipes: spicy guacamole and Mexican classic Pico de Gallo or a tangy fruit salad.

A few times a year I make it a point to take a mini getaway with some of my childhood best friends. This time we decided that Cabo San Lucas was the place to meet for some sun, fun and some much needed R & R. Being that this was my first time in Cabo I thought it was the perfect opportunity to escape the busy summer workplace and go to a destination where words like- private beaches, bottomless margaritas and vibrant nightlife, would entice the quadruple threat of four California women. It was destined to be nothing less then a memorable trip.
We arrived in Cabo in the early evening just as the last rays of sunshine fell behind the dry dessert mountains. Hot winds welcomed us as we descended the airplane into paradise. The first evening commenced into pure relaxation. We feasted on ceviche and cocktail de camarones, followed by the most thirst-quenching margaritas a girl could ask for. Sitting outside in 75 degree weather overlooking the ocean was simply a perfect introduction.
The next few days we lived as beach bums; swimming, boozing and bikini strutting, my three favorite summerlicious things to do. Dining out in local restaurants became our second priority, as we were not fans of the commercialized restaurants targeted to tourists. I became obsessed with Sopa de Tortilla, which consists of pasilla chile and chicken based broth, topped off with avocado, lime, crema and tortilla chips. I was also in heaven everyday with the succulent street food that came our way like, hot dogs wrapped in bacon and tacos galore. How could I resist?
The morning of our departure we were lucky enough to catch the Mexico vs. Uruguay World Cup game at a local bar right on the beach. As part of my travel traditions, I happened to bring a bottle of Ceja Chardonnay as my little traveling gnome and as a symbol for good luck. Servers were dressed in there festive Mexican jerseys, ready to win the battle. Sadly, we lost that match but cheered up after some locals offered to buy us a round of Palomas: (tequila, limejuice, grapefruit juice and soda water), probably the most refreshing drink ever. A definite must try. Period.
After an extended weekend filled with nonstop laughing, indulging and schmoozing in the tropics of Cabo, we came back as bronzed beach babes, refreshed and ready to take on the world once again!
Until the next adventure amigos…
Besos,
Dalia


Dalia Ceja cooks up a wonderful treat just in time for summer - chicken skewers with spicy peanut sauce!