Update on the 2011 Harvest from the Napa Valley Vintners, featuring our very own Armando Ceja! Very informative and beautiful video. Enjoy!
The Napa Valley Vintners is the non-profit trade association responsible for promoting and protecting the Napa Valley appellation as the premier winegrowing region.

Discover something new with the 2011 Napa Valley Film Festival!
We are thrilled to be an official sponsor to the Napa Valley Film Festival, November 9-13, 2011.
The breakdown: Experience an extraordinary independent film festival where inspirational films, intimate conversations and epicurean adventures converge under the sun and stars of legendary Napa Valley.
To purchase festival passes and tickets click here!
You don't want to miss this inaugural celebration focused on film, food, art and wine!
Check out this fun video of the Sundance NVFF launch party!

Join Chef Robin White and Amelia Ceja on June 18th, 2011 @ 5PM EST for a Virtual Wine Dinner.
A virtual wine dinner is an online social event where millions of people around the world cook the same recipes, taste the same wine, and tweet up (you need a twitter account) about it all in real time on a specially scheduled date a time. To make sure that you tweet with all the participants, each of your tweets should contain a "hashtag" — for the Ceja Virtual Dinner our hashtag is "#cejawines". You have to include the "#" sign. Please visit www.chefrobinwhite.com for complete details.

Join winemaker Armando Ceja, as he introduces the inaugural release of Ceja Vineyards 2009 Blanc de Noir sparkling wine. Salud!
Tasting Notes
Boasts a mix of youthful and mature elements, featuring dried berry, toast, orange peel and baking spices. Though firmly structured, this is open and accessible, with a creamy intensity and crisp lingering finish.
Production Notes
88% Pinot Noir, 12% Chardonnay.
Production
200 cases

From all of us at Ceja Vineyards, we'd like to wish you a Happy New Year and many thanks for all your support. We wouldn't be where we are today without YOU! Here's to a fabuloso 2011 full of love, health, happiness, and of course, VINO! ¡Salud!

Dalia Ceja takes you on a tour of Ceja Vineyards' Wine Tasting Salon and Lounge located in the heart of downtown Napa. Next time you're in the neighborhood, please stop in for a taste of some of Napa's finest vinos! In addition to the wine tasting, join us every Saturday evening for the hottest salsa party around! We offer a beginner's salsa lesson at 7:30pm and an intermediate class at 8:30pm. Both classes are free of charge. A dance party continues afterwards until 11pm. No partner necessary.

Who new a bottle of Ceja Pinot Noir could be the perfect travelling Gnome? Dalia Ceja talks about her trip to South America she recently went on along with her trusted vino. Both Dalia and bottle embarked many adventures. Enjoy!

Bells, the rivers of knowledge, Latin words - Amelia Ceja talks about the history of the Ceja Vineyards' wine label.

The Ceja family and Ceja Vineyards staff get together to ask the viewer one simple question - when's the last time you had Ceja wine?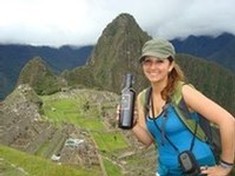 2010 has already proved to be an exciting year for me and my traveling gnome – a bottle of sexy Ceja wine. Traveling has always been an addiction and a passion in my life so last year I embarked on a five month backpacking journey to South America, exploring 5 different countries with my best friend Katie, a bottle of Ceja wine and our crazy imaginations. Unfortunately, the bottle of our 06' Red VDC only lasted until Peru, where we thirstfully enjoyed it sitting in the magical ruins of Machu Picchu. Quite appropriate don't you think? From that moment on, I decided that anywhere else I traveled in this world I would take along my little traveling companion and represent Ceja bringing on interesting adventures, sometimes strange looks, but always good luck!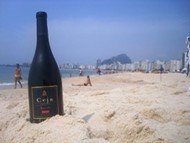 My most recent trip to Brazil and Argentina proved to be very enlightening and unforgettable. I spent the first part of three weeks in Rio where I celebrated the New Year on the beaches of Copacabana dancing to Samba music in a sea of two million people dressed in white (as a symbol for luck and peace), while the starry skies illuminated with thousands of fireworks. Besides the cheers from the crowd, the thunderous pop of thousands of Champagne bottles reverberated through to our souls. It was beautiful to see that even sparkling wine could be appreciated in the hot and tropical parts of the world. After all, bubbly is the sweet nectar in life and I never need a reason to drink it...enough said.
The next several days in my beloved Rio were spent marveling over the gorgeous beaches that surround the city while educating my palate with the variety of passion fruits, juices and baked delights that were available at every corner. Considering the heat and humidity of Rio I thought it best not to open the bottle of Ceja wine until a more suitable setting presented itself; the cool and seductive metropolis of Buenos Aires struck a chord.
Leaving behind the beaches and intense heat, I found myself excited to return to Buenos Aires, a city that never sleeps and is alive with Tango, wine and the delicious Argentine gastronomy. I spent a lot of time in Buenos Aires last year but I was determined to revisit and explore the city with the intensity of a Porteño (a local) and not a tourist. I would wake up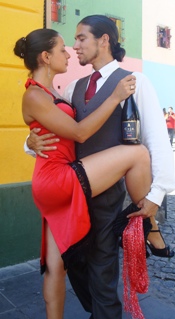 in the mornings and go for walks through the old streets of San Telmo, a charming and colonial part of the city and would stop at a local cafés and sip espresso paired with yummy breakfast empanadas - my favorites being jamon y queso or carne con cebolla. Mmmm…I can almost taste the fresh baked empanadas right out of the oven.
I was on a mission to seek new adventures and find the hidden treasures of such a fascinating city. One gorgeous afternoon, a group of lovely hostel friends and I decided to explore La Boca barrio which is known for its colorful houses and street tango. En route, we encountered a Porteño who informed us that La Boca tended to be a bit dodgy and that we should keep a watchful eye on our belongings. I was not too worried though as we'd be visiting in the middle of the day. Besides, my trusty gnome was on-hand to protect us should any debauchery arise! In the end, my risky curiosity paid off as we descended upon La Boca and had a magical time.
Tango and wine anyone? Tango has to be one of the sexiest and most sensual dances in the world and this charming duo happily agreed to strike a pose with my little gnome. Hot right? I found the colors of these old houses to be quite striking and couldn't resist having them as my backdrop.
The rest of the week passed by too fast and finally the day came that I turned 25. Yep, I turned a quarter century in the midst of my South American travels. My Birthday could not have been more memorable. Surrounded by good food, marvelous friends and Ceja wine…what more could one ask for? We ate, laughed, danced and lived in the moment...we conquered Buenos Aires that evening.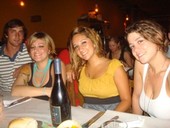 Celebrating the New Year in Rio and turning 25 in Buenos Aires was a dream. As I write this I am flooded with all the delicious memories from the trip that will live with me forever. I am also reminded of my own philosophy in life: live your passions. Now, I ask you, are you living your passions? If not, I invite you to spread your wings, open a bottle of wine and ponder what your passions in life are and live them.
Until the next adventure amigos…
Besos,
Dalia