Amelia Ceja pairs four of her favorite cheeses from around the world with wines from Ceja Vineyards. Humbolt Fog, Petit Basque, Mimolette and Cambozola take center stage!

Dalia Ceja takes you on a hot and spicy adventure with two of her favorite summer recipes: spicy guacamole and Mexican classic Pico de Gallo or a tangy fruit salad.

As the summer weather warms up, grape grower and winemaker Armando Ceja talks about the progress of our Carneros chardonnay vineyard.

A few times a year I make it a point to take a mini getaway with some of my childhood best friends. This time we decided that Cabo San Lucas was the place to meet for some sun, fun and some much needed R & R. Being that this was my first time in Cabo I thought it was the perfect opportunity to escape the busy summer workplace and go to a destination where words like- private beaches, bottomless margaritas and vibrant nightlife, would entice the quadruple threat of four California women. It was destined to be nothing less then a memorable trip.
We arrived in Cabo in the early evening just as the last rays of sunshine fell behind the dry dessert mountains. Hot winds welcomed us as we descended the airplane into paradise. The first evening commenced into pure relaxation. We feasted on ceviche and cocktail de camarones, followed by the most thirst-quenching margaritas a girl could ask for. Sitting outside in 75 degree weather overlooking the ocean was simply a perfect introduction.
The next few days we lived as beach bums; swimming, boozing and bikini strutting, my three favorite summerlicious things to do. Dining out in local restaurants became our second priority, as we were not fans of the commercialized restaurants targeted to tourists. I became obsessed with Sopa de Tortilla, which consists of pasilla chile and chicken based broth, topped off with avocado, lime, crema and tortilla chips. I was also in heaven everyday with the succulent street food that came our way like, hot dogs wrapped in bacon and tacos galore. How could I resist?
The morning of our departure we were lucky enough to catch the Mexico vs. Uruguay World Cup game at a local bar right on the beach. As part of my travel traditions, I happened to bring a bottle of Ceja Chardonnay as my little traveling gnome and as a symbol for good luck. Servers were dressed in there festive Mexican jerseys, ready to win the battle. Sadly, we lost that match but cheered up after some locals offered to buy us a round of Palomas: (tequila, limejuice, grapefruit juice and soda water), probably the most refreshing drink ever. A definite must try. Period.
After an extended weekend filled with nonstop laughing, indulging and schmoozing in the tropics of Cabo, we came back as bronzed beach babes, refreshed and ready to take on the world once again!
Until the next adventure amigos…
Besos,
Dalia


Paella is a Valencian rice dish that originated in its modern form in the mid-19th century near lake Albufera, a lagoon in Valencia, on the east coast of Spain. Many non-Spaniards view paella as Spain's national dish, but most Spaniards consider it to be a regional Valencian dish. Valencians, in turn, regard paella as one of their identifying symbols. In this video Amelia Ceja prepares Paella Mixta, a free-style combination of meat, seafood, vegetables and beans.

Dalia Ceja cooks up a wonderful treat just in time for summer - chicken skewers with spicy peanut sauce!

A friendly breeze welcomed us as we arrived at the Love Field airport in Dallas. This was the first time that I had set foot on Texas soil and I felt a wave of excitement surge through me as we began our exploration through this unfamiliar but thriving Metropolis. Upon hailing down a taxi, I received my first real introduction to Texan culture; Taxi driver: "Y'all California folk? Now that's a long way from Dallas…well, y'all enjoy and take care, ya hear." I immediately fell in love with this place. Who wouldn't? Texas accents were like music to my ears.
Our agenda for the next few days was quite simple. We were there because my darling mother was being recognized as one of the Women Wine Stars, alongside legendary vintners like Dolores Cakebread and Katheryn Hall by the prestigious Les Dames D'Escoffier. It was quite the honor and I was thrilled to join her side to represent Ceja as the next generation in the wine industry.
There was a buzz in the air the day of the big event. A sense of excitement seemed to radiate off everyone, as we were each interviewed by The Wine Channel T.V. with hostess Just Jess. After a few laughs on camera we cruised to La Duni, a very chic and Latino inspired restaurant. I can tell you one thing, Texans know how to eat. We feasted on a yummy brunch of chilaquiles paired with fresh squeezed tangerine mimosas. My kind of food heaven.
A few hours later I was standing in my BCBG gold stilettos walking through F.I.G. or the Fashion Industry Gallery. The who's who of Texan society was there and the event itself turned out to be a huge success. Halfway through the event, the honorees were celebrated by parading through the crowds of thirsty admirers waving flags of their respected winery, followed by brief speeches on their trials and tribulations. It was inspiring to hear the voices of such powerful women who've made such remarkable impacts in the wine industry.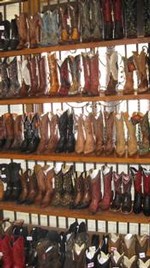 The F.I.G hosted over 600 guests who sampled over 50 delicious wines from California and nibbled on a handful of top Dallas restaurant tapas. As the evening continued I couldn't help but smile and think to myself; you know you're in Texas when it's a black tie event and half the men are wearing cowboy hats and a few women are in cowboy boots. An amazing sight. I envied them. My feet were killing me and I would've traded in my stilettos for boots in a second.
The next day, after a successful meeting with our new wine distributor we had a free afternoon and decided to explore Dallas by foot. Our journey began in the historical downtown district through the delightful afternoon sunshine. As we were taking advantage of the glorious sun I stumbled upon what I consider an amazing treasure- an authentic Western/cowboy store. I walked straight in and the heavy smells of leather welcomed my nose. The wall to my right was lined with over two hundred pairs of colorful cowboy boots and to my left a gorgeous display of antique turquoise jewelry. I spied a pair of low heeled chestnut boots and knew that they had to be mine.
As we walked back to our hotel, I felt a positive admiration for the city and its deep passion for food, wine and authenticity. I felt almost at home and could imagine what life would be like living in such a flourishing city. The Texan sun began to set, illuminating the sky with deep red, pink and orange hues. It was the perfect way to end our trip to Dallas, but it definitely won't be the last.

Until the next adventure amigos…

Besos,

Dalia

For all of you with a sweet-tooth out there we have just the recipe for you! Dalia Ceja prepares one of her all time favorite desserts - almond infused flan with a sweet and tart berry salsa.

It's pizza time folks! Dalia Ceja, Sales & Marketing Manager at Ceja Vineyards shares one of her favorite pizza incarnations made with fresh and zesty ingredients. Paired with Ceja Vineyards Vino de Casa Red Blend, this delectable dish will have you singing "Mozzarella!"

Mother and daughter duo, Amelia and Dalia Ceja, create traditional corn tacos of chicken and potato with a spicy fire roasted salsa.