Napa Valley Register: Mural at Ceja illustrates juicy tale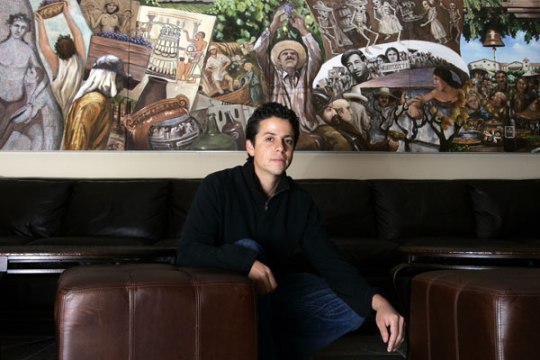 Woodland-based artist Maceo Montoya created the mural "History of Wine" for the Ceja Vineyards Wine Tasting Salon and Gallery over the course of three months, incorporating images from 6,000 BC to the present day. Jorgen Gulliksen/Register
Friday, January 30, 2009
By JENNIFER HUFFMAN
Register Business Writer
A work of art depicting more than 8,000 years of viticultural history may not seem a likely fit on a 4-by-14 foot canvas, but that didn't stop artist Maceo Montoya.
Montoya was commissioned by Ceja Vineyards to create a mural of the history of winemaking, from 6,000 B.C. to today. Last week, his creation was unveiled at the winery's tasting room on First Street in Napa.
The Ceja family tapped the artist after becoming familiar with the work of his father, artist Malaquias Montoya.
Maceo has followed in his father's footsteps, and works as an artist and writer in Woodland. He spent three months on the Ceja mural.
"As I worked on the design for this mural, I was conscious of the great lapses in this history," he wrote. Naturally, it would be hard to fit the entire story in just 14 feet.
That explains how images of the Roman god Bacchus, Egyptian winemakers, Father Junípero Serra, Spanish conquistador Cortez, a 20th-century farm worker, César Chávez, and a modern day family of winemakers can end up in the same collage.
Inspired by Mexican muralists who typically combine wide-ranging historical events, he said the melding of different people, times and places doesn't take away from the strength of the painting or give history short shrift.
Ceja Vineyards General Manager Ariel Ceja shared his vision of the mural with Montoya.
"We wanted to show the joy of wine, how it can bring people together, but at the same time acknowledging its troubled past and the struggles of people who have toiled in the vineyards," Ceja said.
Tying art and winemaking together was a natural, since they have qualities in common, Montoya said.
"Someone has always labored to create it, someone has always grown the vines, picked the grapes, and barreled the wine. I wanted to tie the vineyard workers of today with this long history," the artist said. "I also wanted to connect this labor to the labors of artisans throughout time."
The mural features Chávez prominently.
"Because of the (Ceja) family's background as immigrants and vineyard workers they wanted a special emphasis placed on the role of the field worker, in particular the labor struggles led by César Chávez and the United Farm Workers," Montoya wrote.
"Now a new chapter is being written as we see the emergence of Mexican and Mexican-American vintners," he wrote.
"This painting seeks to highlight and honor this important contribution," Montoya wrote.
"I think it's a tremendous piece that should inspire many people," Ceja said as he admired the mural. "It's an homage to our history."