June 14, 2010 | Dalia Ceja
Vino, Cowboys and Two Gals in Texas
A friendly breeze welcomed us as we arrived at the Love Field airport in Dallas. This was the first time that I had set foot on Texas soil and I felt a wave of excitement surge through me as we began our exploration through this unfamiliar but thriving Metropolis. Upon hailing down a taxi, I received my first real introduction to Texan culture; Taxi driver: "Y'all California folk? Now that's a long way from Dallas…well, y'all enjoy and take care, ya hear." I immediately fell in love with this place. Who wouldn't? Texas accents were like music to my ears.
Our agenda for the next few days was quite simple. We were there because my darling mother was being recognized as one of the Women Wine Stars, alongside legendary vintners like Dolores Cakebread and Katheryn Hall by the prestigious Les Dames D'Escoffier. It was quite the honor and I was thrilled to join her side to represent Ceja as the next generation in the wine industry.
There was a buzz in the air the day of the big event. A sense of excitement seemed to radiate off everyone, as we were each interviewed by The Wine Channel T.V. with hostess Just Jess. After a few laughs on camera we cruised to La Duni, a very chic and Latino inspired restaurant. I can tell you one thing, Texans know how to eat. We feasted on a yummy brunch of chilaquiles paired with fresh squeezed tangerine mimosas. My kind of food heaven.
A few hours later I was standing in my BCBG gold stilettos walking through F.I.G. or the Fashion Industry Gallery. The who's who of Texan society was there and the event itself turned out to be a huge success. Halfway through the event, the honorees were celebrated by parading through the crowds of thirsty admirers waving flags of their respected winery, followed by brief speeches on their trials and tribulations. It was inspiring to hear the voices of such powerful women who've made such remarkable impacts in the wine industry.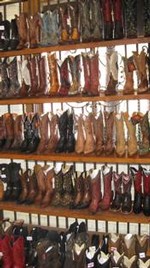 The F.I.G hosted over 600 guests who sampled over 50 delicious wines from California and nibbled on a handful of top Dallas restaurant tapas. As the evening continued I couldn't help but smile and think to myself; you know you're in Texas when it's a black tie event and half the men are wearing cowboy hats and a few women are in cowboy boots. An amazing sight. I envied them. My feet were killing me and I would've traded in my stilettos for boots in a second.
The next day, after a successful meeting with our new wine distributor we had a free afternoon and decided to explore Dallas by foot. Our journey began in the historical downtown district through the delightful afternoon sunshine. As we were taking advantage of the glorious sun I stumbled upon what I consider an amazing treasure- an authentic Western/cowboy store. I walked straight in and the heavy smells of leather welcomed my nose. The wall to my right was lined with over two hundred pairs of colorful cowboy boots and to my left a gorgeous display of antique turquoise jewelry. I spied a pair of low heeled chestnut boots and knew that they had to be mine.
As we walked back to our hotel, I felt a positive admiration for the city and its deep passion for food, wine and authenticity. I felt almost at home and could imagine what life would be like living in such a flourishing city. The Texan sun began to set, illuminating the sky with deep red, pink and orange hues. It was the perfect way to end our trip to Dallas, but it definitely won't be the last.

Until the next adventure amigos…

Besos,

Dalia
Comments