Mousse de Guayaba (Guava Mousse)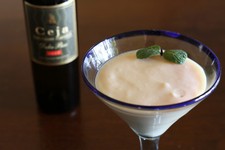 Recipe Date:
January 1, 2015
Measurements:
Imperial (US)
Ingredients
1 28oz can of whole guavas in syrup
1 cup milk
1/2 cup condensed milk
3 tsps unflavored gelatin
1 tsp vanilla
whipped cream (optional)
Directions
Pour the milk and gelatin in a glass bowl and mix well. Then, heat the bowl in a microwave until milk begins to boil and gelatin is dissolved. Let cool and set aside.
In a blender, process the guavas and syrup until smooth. Strain the pureéd guavas to remove the seeds and return to blender. Add the dissolved gelatin with milk, condensed milk and vanilla. Blend at high speed for one minute.
Distribute guava mixture in eight martini glasses and chill in refrigerator until set. Can be served with fresh whipped cream and garnished with a fresh mint leaf.