Breakfast Potato and Longaniza Tacos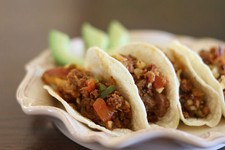 Recipe Date:
January 1, 2015
Measurements:
Imperial (US)
Ingredients
10 ozs Mexican Longaniza, casings removed
1 tbsp vegetable oil
1 small onion, diced
5 garlic cloves
1 serrano chile, diced
3 roma tomatoes, chopped
12 small potatoes (any kind will do)
sliced avocado
salt and pepper to taste
pinch of cumin
Directions
Remove casings and add longaniza to a sauté pan on a medium heat. Break up longaniza with a spatula and thoroughly cook for 5 to 8 minutes. Transfer the longaniza to a paper lined plate to absorb any additional oil.
Cut potatoes into thin triangles and cook in sauté pan on a medium heat with a little bit of olive oil until golden-brown. Remove potatoes and set aside.
In the same pan add in chopped onion, garlic, tomatoes, jalapeño, cumin and olive oil and cook for 5 minutes. Mix in the potatoes and longaniza and continue sautéing until well integrated. Add salt and pepper to taste. Warm up corn tortillas and make some tacos! Garnish with sliced avocado.