Eggplant Tacos with Spicy Yogurt Salsa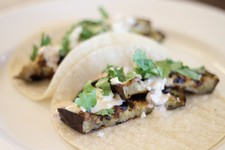 Recipe Date:
January 1, 2015
Measurements:
Imperial (US)
The raw eggplant fruit can have a somewhat bitter taste, but becomes tender when cooked and develops a rich, complex flavor. Traditionally, recipes would advise the salting, rinsing and draining of the sliced fruit (known as "degorging") to soften it and to reduce the amount of fat absorbed during cooking, but mainly to remove the bitterness of the earlier cultivars. Some modern varieties - including those large, purple varieties commonly imported into western Europe - do not need this treatment.
The fruit is capable of absorbing large amounts of cooking fats and sauces, allowing for very rich dishes, but the salting process will reduce the amount of oil absorbed. The fruit flesh is smooth; as in the related tomato, the numerous seeds are soft and edible along with the rest of the fruit. The thin skin is also edible, so peeling is not required.
Ingredients
For Spice Mixture
1 tsp cayenne pepper
1 tsp cumin
1/4 tsp black pepper
1/2 tsp salt
- For Yogurt Sauce
1 cup plain yogurt
1/3 cup buttermilk
2 chopped chipotle peppers
2 tbsps adobo sauce from chipotle peppers
1 clove garlic, minced
1/8 tsp cayenne pepper
1/8 tsp black pepper
1/4 tsp cumin
1/4 tsp kosher salt or to taste
1/2 cup chopped cilantro
For Eggplant
1 large eggplant or 3 long Asian eggplants
olive oil
12 warm corn tortillas
1/2 cup crumbled queso fresco
1/2 cup chopped cilantro
Directions
Cut eggplant lengthwise about 1/2 inch thick. Brush olive oil on both sides. Combine all spice mixture ingredients and sprinkle on eggplant. Grill eggplant pieces on medium-high heat for 4 minutes on both sides or until tender. Once grilled, cut the eggplant slices in one inch strips to create smaller pieces. Place eggplant pieces on a warm corn tortilla. In a bowl, mix all yogurt salsa ingredients and then add to eggplant taco. Garnish with crumbled queso fresco and cilantro.
The eggplant is used in cuisines from Japan to Spain. It is often stewed, as in the French ratatouille, or deep fried as in the Italian parmigiana di melanzane, the Turkish karnıyarık or Turkish and Greek musakka/moussaka, and Middle-Eastern and South Asian dishes.
Eggplants can also be battered before deep-frying and served with a sauce made of tahini and tamarind. In Iranian cuisine, it can be blended with whey as kashk e-bademjan, tomatoes as mirza ghasemi or made into stew as khoresh-e-bademjan. It can be sliced and deep-fried, then served with plain yogurt, (optionally) topped with a tomato and garlic sauce, such as in the Turkish dish patlıcan kızartması (meaning: fried aubergines) or without yogurt as in patlıcan şakşuka. However, arguably the most famous Turkish eggplant dish duo is İmam bayıldı (vegetarian) and Karnıyarık (with minced meat).