Eggplant Tacos with Spicy Yogurt Salsa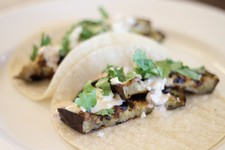 Recipe Date:
January 1, 2015
Measurements:
Imperial (US)
Eggplant is a plant species in the nightshade family and it's grown worldwide for its edible fruit.
The spongy, absorbent fruit is used in several cuisines around the world. It comes in several colors, shapes and sizes absorbing any flavors with which it's cooked. It's typically used as a vegetable although it is a berry by botanical definition and it's related to the tomato and potato genus.
I love eggplant and I use it in many Mexican recipes including as a savory topping for tostadas. I have access to different varieties because eggplants grow easily in our wine country Mediterranean climate in Northern California. My hubby Pedro and I maintain an amazing organic garden around our home and we enjoy it's bounty all year long.
Ingredients
For Eggplant
1 large eggplant or 3 long Asian eggplants
olive oil
12 warm corn tortillas
1/2 cup crumbled queso fresco
1/2 cup chopped cilantro
For Spice Mixture
1 tsp cayenne pepper
1 tsp cumin
1/4 tsp black pepper
1/2 tsp salt
For Yogurt Sauce
1 cup plain yogurt
1/3 cup buttermilk
2 chopped chipotle peppers
2 tbsps adobo sauce from chipotle peppers
1 clove garlic, minced
1/8 tsp cayenne pepper
1/8 tsp black pepper
1/4 tsp cumin
1/4 tsp kosher salt or to taste
1/2 cup chopped cilantro
Directions
Preheat the oven to 425 degrees.
To make spice mixture, simply combine all spices in a small bowl.
To make yogurt salsa, simply combine all ingredients together (except cilantro) in a small bowl. If too thick, add more buttermilk.
Cut eggplant lengthwise about 1/2 inch thick. Place foil on the baking sheet (for easy cleanup). Put eggplant slices on the baking sheet, brush with olive oil and sprinkle with spice mixture. Turn them over and repeat. Bake for about 15 minutes or until golden brown. Set aside to cool.
Cut eggplant slices in one inch strips to create smaller pieces. Place eggplant pieces on a warm corn tortilla, serve with yogurt salsa, finely shredded red cabbage, crumbled queso fresco and garnish with cilantro.
The eggplant is used in cuisines from Japan to Spain. It is often stewed, as in the French ratatouille, or deep fried as in the Italian parmigiana di melanzane, the Turkish karnıyarık or Turkish and Greek musakka/moussaka, and Middle-Eastern and South Asian dishes.
Eggplants can also be battered before deep-frying and served with a sauce made of tahini and tamarind. In Iranian cuisine, it can be blended with whey as kashk e-bademjan, tomatoes as mirza ghasemi or made into stew as khoresh-e-bademjan. It can be sliced and deep-fried, then served with plain yogurt, (optionally) topped with a tomato and garlic sauce, such as in the Turkish dish patlıcan kızartması (meaning: fried aubergines) or without yogurt as in patlıcan şakşuka. However, arguably the most famous Turkish eggplant dish duo is İmam bayıldı (vegetarian) and Karnıyarık (with minced meat).