Filet Mignon with Mushroom Cabernet Sauvignon Sauce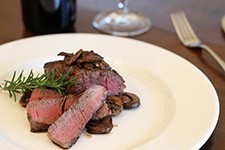 Recipe Date:
April 6, 2015
Measurements:
Imperial (US)
Ingredients
4 1-inch-thick filet mignon steaks
1 tbsp olive oil
1 tbsp unsalted butter
salt and freshly ground pepper
1 small rosemary branch
2 garlic cloves
2 shallots, thinly sliced crosswise
2 Japones chile peppers (aka Santaka or Capsicum Annuum)
1 cup beef broth
3 cups crimini mushrooms, sliced
1/4 cup Cabernet Sauvignon
Directions
Season each side of the steaks with salt and pepper. Heat olive oil and butter in a heavy-duty skillet over medium heat then add in rosemary and garlic cloves. Add steaks and sear on each side over medium high heat for 2 minutes (or more depending on your preference). Transfer steaks to a large baking dish and place in a preheated oven at 225°F while you prepare the mushroom Cabernet Sauvignon reduction sauce.
Using the same pan (do not discard the drippings), over medium heat, saute the shallots until translucent then add in the mushrooms. Sprinkle in salt. Stir the mushrooms for two minutes then add the beef broth and bring the heat up to a medium high. Once half of broth is cooked off pour in Cabernet Sauvignon and stir. Reduce heat and simmer until the sauce is reduced to 1 cup. If needed, season with salt and pepper to taste and spread equal amounts of mushroom sauce on warm plates – place a filet on each plate, spoon any remaining sauce over the steaks and serve with your favorite accompaniments.