Tostadas de Tinga de Res (Shredded Sirloin Tip Steak Tostadas)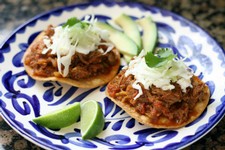 Recipe Date:
January 1, 2015
Measurements:
Imperial (US)
Ingredients
4 lbs sirloin tip steak
2 garlic head – unpeeled
1 medium white onion cut in half
1 tomato cut in quarters
5 chiles guajillos
1 chile ancho
9 garlic cloves
15 peppercorns
1 tbsp dried oregano
5 tomatoes, diced
1 medium white onion, diced
2 pickled jalapeño peppers, sliced
4 tablespoons pickled jalapeño peppers vinegar
olive oil
salt
pepper
Directions
Cut the meat in large pieces and rinse well in cold water. Bring a medium pot of water to boil and add the meat, one onion cult in half, a tomato cut in quarters, head of garlic and a dash of salt. It takes around one hour and a half to cook. When done, let it cool then coarsely shred. Reserve beef stock.

De-seed the guajillo and ancho peppers, rinse and cook in three cups of reserved beef stock for 10 minutes. Process the cooked peppers with the stock plus nine garlic cloves, 15 peppercorns, tablespoon of dried oregano and a pinch of salt until smooth. Reserve.

In a large saute pan, add four tablespoons of olive oil. When hot, add diced onion and cook for five minutes. Add diced tomatoes, a pinch of salt and freshly ground pepper – cook for five minutes. Next, add the shredded steak and stir for five minutes. Finally, add the reserved red chile sauce, the sliced jalapeño peppers and vinegar. Stir and adjust salt. Simmer for 10 minutes.

Serving Options: This savory dish can be served accompanied with beans and rice and corn tortillas. I love serving tinga de res on tostadas and garnished with crumbled queso fresco, shredded cabbage and fire roasted salsa, and of course with a bottle of Ceja Vineyards wine!