Anthony Bourdain's Deviled Eggs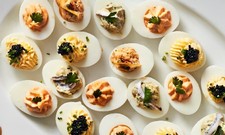 Recipe Date:
August 24, 2020
Measurements:
Imperial (US)
I read Kitchen Confidential by Anthony Bourdain in 2000, and I was hooked. I devoured with gusto all his subsequent books and binge-watched his TV shows.
For my birthday, this past June, during this COVID-19 Pandemic, I reread Kitchen Confidential again, and I love it even more.
Anthony Michael Bourdain was an American celebrity chef, author, journalist, and travel documentarian who starred in programs focusing on the exploration of international culture, cuisine, and the human condition. He died in June 2018.
Anthony Bourdain's A Cook's Tour visited Napa Valley to shoot an episode at Thomas Keller's legendary French Laundry restaurant in Yountville which aired on April 30, 2002. I wish I had met him. I miss him.
I do have a signed first edition of Bourdain's Appetites Cookbook, and I love the simplicity and decadence of his deviled eggs recipe with different toppings and garnishes -- from caviar to hot and spicy!
Here's Anthony Bourdain's introduction to his deviled eggs recipe. "I'm an egg slut: I like deviled eggs in almost every conceivable variation. They improve everything, particularly a party, because who doesn't like deviled eggs?"
Ingredients
12 large eggs


For 12 Caviar Eggs
2 tbsps mayonnaise
salt and freshly ground black pepper to taste
garnish with 2 ounces best quality caviar and 1 tablespoon finely chopped fresh chives


For 12 Mediterranean Eggs
1 tbsp mayonnaise
1 tbsp finely chopped preserved lemon
1 tbsp harissa paste
2 tbsps capers, drained, rinsed and finely chopped
1 tbsp extra-virgin olive oil
salt and freshly ground to taste (taste before adding salt)
garnish with grated lemon zest, finely chopped fresh parsley, saffron threads, whole capers


For 12 Anchovy Eggs
2 tbsps mayonnaise
1 tbsp finely chopped fresh parsley
1 1/2 tsps Dijon mustard
1/2 tsp anchovy paste
salt and freshly ground pepper to taste
garnish with finely chopped fresh parsley, marinated white anchovies (boquerones) cut in half lengthwise


For 12 Hot and Spicy Deviled Eggs
2 tbsps mayonnaise
1 1/2 tsps hot mustard
1 1/2 tsps bottled hot sauce, or more to taste
salt and pepper to taste
garnish with fresh cilantro leaves and finely chopped scallions (white and light green parts only)
Directions
Place the eggs gently into a medium pot -- the eggs should fit rather snugly so that they don't bounce around and potentially break. Fill it with cold water, and bring to a rapid boil. Once the water boils, remove from the heat and cover the pot with a lid. Let it sit for 10 minutes then carefully remove the eggs from the pot and transfer to an ice-water bath (a large bowl filled with ice and cold water) to cool. Once they're cool, peel the eggs and cut each in half lengthwise. Carefully separate the yolks from the whites and proceed with the filling options below.
Method For All Variations
In a bowl, mash together the yolks, mayonnaise and all the other listed ingredients for each respective recipe. Transfer the mixture to a pastry bag fitted with a star tip, or a plastic bag from which you have snipped one small corner. Stuff the whites with the mixture, garnish as indicated and serve.