Arroz Mexicano (Mexican Rice)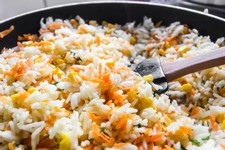 Recipe Date:
March 27, 2020
Measurements:
Imperial (US)
Our authentic Arroz Mexicano (Mexican rice) is light and fluffy and is a great side dish to all taco and enchilada entrees. You'll never buy Mexican or Spanish rice in a pouch or box again after learning how to cook this easy recipe.
Ingredients
2 cups Jasmine rice (rinsed in cold water three times and drained)
4 cups chicken stock (nonfat and low sodium)
1 medium white onion, diced
4 garlic cloves, minced
2 Roma tomatoes diced or ½ cup of crushed canned tomatoes
1 cup fresh or frozen peas (thawed if frozen)
1 cup fresh or frozen white corn kernels (thawed if frozen)
1/4 cup light olive oil
salt to taste
Directions
In a small pot heat the chicken stock.
In a medium pot, heat the olive oil and sauté the rinsed rice until it turns slightly golden. Add the diced onion and stir for one minute then add the minced garlic and cook while stirring for 30 seconds. Add diced tomatoes or canned tomatoes and cook for a minute.
Add heated chicken stock to rice mixture and bring to a boil. Lower temperature and simmer until 1/3 of liquid has been absorbed (about 4 minutes). Add the peas, corn and salt to taste and stir. Cover with a lid and gently simmer until liquid is completely absorbed – around 12 minutes).
Let it sit for 5 minutes and then fluff with a fork.
Serve as a side dish with birria, chicken mole, enchiladas, grilled arrachera or your favorite entrée. I love this rice by itself too.