Beer Can Chicken Tacos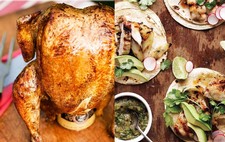 Recipe Date:
November 10, 2020
Measurements:
Imperial (US)
Tacos filled with roasted, grilled or fried chicken are tasty, and paired with a crisp dry Rosé wine or Pinot Noir, are simply divine.
My husband Pedro Ceja loves chicken tacos and cooking with beer. Months ago, he roasted a whole chicken rubbed with spices and herbs on a roasting pan and baked it sitting up with a beer can inserted in its cavity. It was savory, moist and simply delicious.
The beer steams the chicken from the inside and the result is a perfectly roasted, succulent and juicy chicken with spicy and crispy skin. This is an easy recipe to be enjoyed frequently with family and friends, and a glass or two of our exceptional vinos.
Ingredients
1 large whole chicken (4 to 5 lbs)
1 12 ounce can ale or lager beer
olive oil
12 garlic cloves, minced
1 tbsp fresh rosemary, minced
1 tbsp cayenne pepper
1 tbsp paprika
1 tbsp black pepper
1 tbsp crushed red pepper flakes
1 tbsp kosher salt
1 tsp coriander
1 tsp cumin
1/2 bunch fresh cilantro
corn tortillas
your favorite salsa
Directions
Preheat the oven to 375ºF. Remove the chicken from the fridge and leave outside for an hour to come up to room temperature. Pat dry with paper towels and drizzle the chicken with olive oil.

Mix minced garlic, rosemary, cayenne pepper, paprika, black pepper, red pepper flakes, salt coriander and cumin and sprinkle the rub over the chicken. With your hands, massage the chicken with the rub and insert the fresh cilantro inside the cavity.

Open the beer and pour 1/2 on the roasting pan, then carefully lower the chicken cavity onto the can so it looks like it's sitting up. Position the chicken so it's upright on the roasting pan, then place in the oven and cook for around 1 hour, or until golden and cooked through. To check, insert a thermometer on the chicken breast and it should read 165°F.
Allow the chicken to rest for 10 minutes, then carve the cooked chicken and place on a platter. Serve with warm corn tortillas and a favorite salsa.