Caldo de Pollo (Chicken Soup)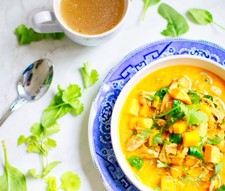 Recipe Date:
March 26, 2020
Measurements:
Imperial (US)
My maternal grandmother Mamá Chepa believed this soup cured all ailments, and I believe it too. It's so delicious and comforting! It's the perfect elixir for the body and soul. In Michoacán, where my husband Pedro is from, this soup is served over Arroz Mexicano (Mexican rice) and garnished with a squeeze of lime, diced avocado and thin slices of fresh Serrano peppers. I love it with warm corn tortillas too. This wonderful soup pairs well with Ceja Vineyards Chardonnay.
Ingredients
3 lbs drumsticks or chicken leg quarters, rinsed and with the skin and excess fat removed
water
1 head of garlic, cleaned and with tip of cloves cut off
2 Roma tomatoes, cut in quarters
1 Serrano pepper, cut in half
1 large chunk of fresh ginger, peeled and thinly sliced crosswise
1 onion (white or yellow) peeled and cut in half lengthwise
12 sprigs of cilantro
salt to taste
1/4 cup white distilled vinegar
4 tbsps soy sauce
2 15.5 oz cans garbanzo beans, drained
3 large carrots, peeled and cut into medium chunks
3 grey Mexican squash or zucchinis, cut into medium chunks
1 half cabbage, cut
8 green onions, cut diagonally including part of the greens
Directions
Place chicken into a large stock pot and pour enough water to cover the chicken plus eight additional cups of water. Add head of garlic, tomatoes, Serrano pepper, ginger, white or yellow onion, sprigs of cilantro and a little salt. Bring to a boil and reduce heat to medium and cook stirring infrequently for 15 minutes. Skim and discard foam from the surface of the soup until the soup is clear.
Add vinegar, soy sauce and garbanzo beans and cover pot and simmer for 15 minutes. If you like more broth in the soup, add one or two more cups of water now and bring back to a boil. Skim and discard additional foam from the surface. Take out chicken pieces and place in a bowl to cool down and debone the cooked chicken and set aside.
Add carrots to the soup. Cook for 5 minutes, then add squash or zucchini and cook for 15 minutes. Add cabbage, green onions and cilantro. Taste and adjust the salt and simmer for 10 additional minutes. Add cooked chicken and mix gently.
This soup is versatile and other vegetables can be used as well such as green beans, snap peas, mushrooms, fresh corn cut in quarters, chayotes, Mexican grey squash, potatoes, turnips and parsnips.