Carne de Puerco con Chile (Spicy Pork Stew)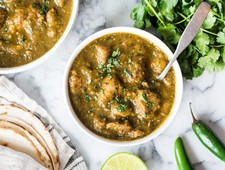 Recipe Date:
December 8, 2020
Measurements:
Imperial (US)
Carne de Puerco con Chile is a savory stew containing pork, a variety of fresh and dry chili peppers, tomatoes, tomatillos or a combination of both. Other seasonings include garlic, onions, cumin and Mexican oregano.
Carne de Puerco con Chile can be made with beef as well, but I prefer to use pork. My maternal grandmother mamá Chepa prepared it this way and it's a very popular dish in Los Altos de Jalisco (the highlands of Jalisco) -- the place where I was born.
It's the perfect hearty comfort food during cold weather, and paired with a glass or two of our balanced wines, it's a pleasing experience.
I've selected to use a combination of tomatoes and tomatillos as well as four types of chili peppers because I want to build layers of complex flavors and spiciness to this dish, however, a single variety can be used and the result will be equally delicious. Tomatillos can be substituted with all tomatoes, and spiciness in this chile sauce can be adjusted by reducing the amount of peppers used. The suggested ingredients can be easily modified to fit your palate -- this recipe is just a guideline -- it's easy to make it your own. It's the perfect chili for the football season and the star at Super Bowl celebrations.
Ingredients
4 lbs pork shoulder, cut in large bite size pieces
9 Roma tomatoes, cut in quarters
12 tomatillos, husks removed
1 white onion, cut in quarters
12 garlic cloves
2 guajillo peppers, deveined and deseeded
2 arbol peppers, deseeded
4 jalapeño peppers
2 serrano peppers
10 cilantro sprigs
1 bay leaf
pinch of cumin
pinch of Mexican oregano
salt and pepper
water
olive oil
Directions
Heat 4 tablespoon of olive oil in a Dutch oven and add the pork, salt and pepper and cook on high heat until browned, around 10 minutes. Add 2 onion quarters, 10 cilantro sprigs, 4 garlic cloves, 1 bay leaf and enough water to cover the pork meat and bring to a boil. Cover and reduce heat to low and simmer for 1 hour until the meat is tender.
Prepare the salsa while the meat is cooking. In a medium saucepan, combine the tomatoes, tomatillos, jalapeño and serrano peppers and cover with water. Bring to a boil and cook for 10 minutes. Add the 2 onion quarters, 8 garlic cloves and guajillo and arbol peppers and turn the heat off.
Process guajillo and arbol peppers, pinch of cumin and Mexican oregano in a blender with 1/2 cup of the liquid from the cooked ingredients. Then add the remaining cooked ingredients and process until semismooth (in two batches if needed). Set aside.
Remove the onion, cilantro sprigs, garlic and bay leaf from the pork meat. Strain and reserve the pork broth. Return the pork meat to the Dutch oven and add 3 tablespoons of olive oil and fry until golden brown. Stir in the salsa and enough of the pork broth to cover the pork meat. Bring to a boil and season with salt to taste. Cover and reduce the heat to low. Simmer for 1/2 hour.
To serve, ladle Carne de Puerco con Chile into bowls. Serve with warm corn tortillas.