Carnitas (Mexican Slow Cooked Pork)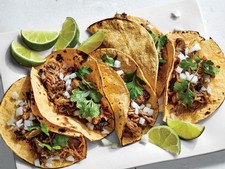 Recipe Date:
August 31, 2020
Measurements:
Imperial (US)
Carnitas is a delicious Mexican cuisine dish that literally means "little meats." Carnitas are made by braising or simmering pork until tender in oil or lard.
The history of carnitas dates back to the colonial period and it's truly a historic moment of culinary fusion.
Pigs were first brought by Spaniards to Cuba and eventually to Mexico. By the 1520s, Spaniards were eating pork meat in tacos with hot tortillas in Mexico; it was the food of the colonizers enhanced by the introduction of maize by indigenous people.
Food in Mexico did not include frying as a technique until the Spaniards' arrival, and fat as a cooking medium was not known amongst pre-Hispanic groups. Lard from pigs, followed by tallow and butter from bovine and ovine herds, and vegetable oils including olive oil, were introduced to the Americas, and that is when the mestizaje -- interbreeding -- of the Spanish and Mexican cuisines embraced frying with a passion: corn tortillas, for crispy chilaquiles; refried beans; chiles rellenos capeados (battered stuffed peppers); and of course, carnitas - crispy pork.
Golden brown, crispy chunks of pork, with juicy and tender meat inside, are best enjoyed chopped -- not shredded, nested in soft corn tortillas with toppings such as chopped onion and cilantro, salsa, guacamole and a sprinkle of lime juice.
This is a tasty version of one of my favorite taco fillings, and most importantly, it's easy to prepare! It's great with both Pinot Noir, Merlot and red wine blends depending on what type of salsa is served with the carnitas.
A toast to the 500th year anniversary of the enjoyment of carnitas!
Ingredients
5 lbs boneless pork shoulder
2 cups light olive oil or lard
8 garlic cloves, minced
Mexican oregano to taste
juice of two oranges
water
salt and pepper to taste
corn tortillas
Topping Options
shredded cabbage
guacamole
chopped white onion and cilantro
salsa
pico de gallo
sliced pickled jalapeño peppers
a squeeze of lime juice
Directions
Cut up the pork shoulder into large chunks (2" to 3" cubes). Do not remove the fat, it's what makes it taste delicious. If using a lean cut of pork like the tenderloin, add additional olive oil or lard to the dutch oven or skillet.

Heat olive oil in a large dutch oven, skillet or a large heavy frying pan and add pork, garlic, a little salt and a sprinkle of Mexican oregano. Cook meat until seared – around 10 to 15 minutes.

Add the juice of two oranges and stir for a minute then add enough water with a teaspoon of salt dissolved to almost cover the pork chunks (let some of the meat break through the surface).

Over medium-high heat, bring mixture to a boil; reduce heat to medium low and let simmer for 45 to 60 minutes or until all liquid evaporates and the meat is crisp and easily pierced with a fork (the pork will render all of its fat and get nice and crisp in the pan). Remove carnitas from the pan and place on a colander to drain excess fat. Either leave as they are or chop the Carnitas into smaller pieces.
Serve with warm corn tortillas, finely shredded cabbage, guacamole and your favorite salsa. Carnitas may be stored in the refrigerator for 3 to 4 days. Reheat before using.