Chile-Braised Beef Short Rib Tacos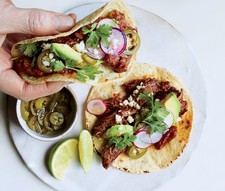 Recipe Date:
December 15, 2020
Measurements:
Imperial (US)
Braising is a combination-cooking method that uses both wet and dry heats: typically, the food is first sautéed or seared at a high temperature, then finished in a covered pot at a lower temperature while partially immersed in some flavorful liquid like a broth or a sauce. This cooking method can be done on the stovetop or the oven.
Mexican beef birria (savory braised beef) is prepared in this way, and for many years, I've substituted beef short ribs for the traditional cuts of meat typically used in making this recipe. I love to use short ribs with bones in because the bones add so much more flavor to this dish.
Besides chiles, onions, tomatoes and beef broth, I've also incorporated wine into this recipe and it's sublime. The meat is tender, rich and succulent and makes the perfect taco filling, and paired with a glass or two of our delectable Ceja Vineyards wines, it's a culinary memorable experience.
Ingredients
6 lbs beef short ribs with bones
2 cups red wine
2 cups beef broth
1 large yellow onion, medium diced
3 medium tomatoes, diced
10 garlic cloves
4 guajillo chiles, stemmed and seeded
2 árbol dried chiles, stemmed and seeded
1 tbsp dried Mexican oregano
1 tbsp kosher salt
1 tbsp freshly ground black pepper
1 tsp ground cumin
1 bay leaf
4 tbsps olive oil
corn tortillas
chopped white onion, chopped fresh cilantro, salsa of choice, and lime wedges, for garnish
Directions
In a small saucepan over medium heat, cook the guajillo and árbol peppers in 2 cups of beef broth until rehydrated, about 7 minutes. Remove all ingredients from the saucepan and process until smooth with the Mexican oregano and cumin -- set aside.
Position a rack in the center of the oven and preheat to 300°F. Heat olive oil in a large Dutch oven or heavy-bottomed saucepan over high heat. Season short ribs with salt and pepper and brown on all sides, about 2 minutes per side. Remove to a plate.
Reduce heat to medium. Add onions and tomatoes. Sauté until tender, about 5 minutes. Add the garlic, and cook until fragrant, about 2 minutes. Arrange the seared short ribs in the Dutch oven and stir in red wine, chile mixture, salt, and bay leaf and return heat to high. Bring to a simmer, cover, and bake in the oven about 2 1/2 hours, until very tender, turning short ribs over halfway through cooking.
Remove from the oven and, using tongs or a couple of forks, shred the meat in the pot. Taste and adjust the salt if needed. Serve with warm corn tortillas, onion, cilantro, salsa, and lime -- it's simply delicious!