Chiles Rellenos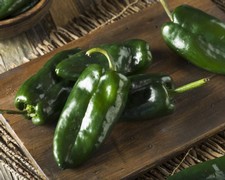 Recipe Date:
June 1, 2020
Measurements:
Imperial (US)
Chiles rellenos are typically made with Poblano peppers stuffed with cheese, dipped in an egg batter then deep fried and served with a red salsa.
I love chiles rellenos tacos, and I've developed my own recipe that excludes the egg batter and the deep frying. Instead, I grill or roast the peppers once they're stuffed, and they're tastier and healthier. A delicious vegetarian dish!
Ingredients
8 poblano peppers
1 lb queso fresco or Oaxacan cheese
2 roma tomatoes, diced
1/2 white onion, diced
pinch of oregano
salt & pepper to taste
16 tortillas
Directions
In a small bowl, mix together diced tomatoes, diced onion and oregano – season with salt and pepper. Next, cut the cheese in ½ inch thick x 2 inches long rectangles. Now make an incision on top of the peppers and stuff each one with cheese and the tomato mixture until completely full.

After the grill is nice and hot, add peppers and grill on all sides until charred but not burned. Remove from the grill and let them rest for 5 minutes. With a paper towel, remove the charred skin and cut in half lengthwise.

Serve with warm corn tortillas and top the tacos with your favorite Mexican salsa. I garnish my tacos with fire roasted tomato salsa.