Crispy Chicken Taquitos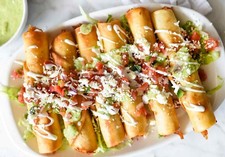 Recipe Date:
June 29, 2020
Measurements:
Imperial (US)
A taquito, Spanish for "small taco," is a Mexican dish that consists of a small rolled-up corn tortilla that contains filling, including beef, chicken, beans, cheese or vegetables.
The filled tortilla is then crisp-fried or deep-fried. The dish is often topped with condiments such as Mexican crema, guacamole and savory salsas.
This dish is also commonly known as flauta, Spanish for "flute," when they're larger than taquitos and made with flour tortillas.
The first thing you'll need to make chicken taquitos is cooked shredded chicken. You can use leftover chicken, rotisserie chicken, whatever you have on hand is fine!
Ingredients
3 cups cooked shredded chicken
1/2 yellow or white onion, diced
3 garlic cloves, minced
2 tsps chili powder
1 tsp ground cumin
salt and pepper to taste
18 small corn tortillas
oil for frying and sauteing (extra light olive oil preferably)
toothpicks
Directions
Heat 2 tablespoons of olive oil in a medium saute pan and add diced onion and a little salt and pepper. Stir and cook for 2 minutes. Add minced garlic and cook until fragrant - around 30 seconds. Add the chicken, salt, pepper, chili powder and cumin. Stir until combined.
Warm corn tortillas on a hot comal, skillet or the microwave until tortillas are pliable.
Lay out the tortillas on a flat surface and divide the chicken mixture among the 18 tortillas. Roll up each tortilla tightly and secure with two toothpicks - one on each side.
To fry the taquitos, heat 3/4 inch of oil in a deep pan to 350 degrees F. Add 3-4 taquitos and fry until crisp and golden brown (about 3 to 5 minutes). Repeat with remaining taquitos.
Remove toothpicks, then serve taquitos topped with Mexican crema or sour cream, guacamole and a favorite savory salsa.