Dungeness Crab Enchiladas Verdes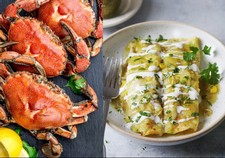 Recipe Date:
November 24, 2020
Measurements:
Imperial (US)
Our family's favorite crustacean is Dungeness Crab and many years ago we started our very own Thanksgiving tradition.
We have a very large extended family and it's always been challenging spending Thanksgiving Day visiting multiple households. So we decided to host a Thanksgiving's eve dinner with our immediate family at our home and the menu was a Dungeness Crab feast! It was delicious and we had such fun cleaning, cracking and eating the mounds of crab together, and we didn't have to leave the house nor drive anywhere! But our extended family and friends found out and they wanted in.
Throughout the years, we've prepared as many as 60 Dungeness crabs depending on the number of guests attending, but this year we'll miss our dear extended family and friends due to the coronavirus health crisis. We're continuing this joyous tradition with our tiny family sheltering in place with us and it will be lovely paired with a glass or two of our delicious Ceja Vineyards vinos.
Dungeness Crab season typically starts in mid November and it's always the best, fresh from Fisherman's Wharf in San Francisco. This year Dungeness Crab season will not begin until mid December in California, but we're getting some from the bountiful state of Washington.
In honor of our family's Thanksgiving tradition, I'm sharing my tasty green enchiladas recipe stuffed with sweet luscious Dungeness Crab. Feliz semana de acciőn de gracias!
Ingredients
2 cups lump crab meat with shell pieces removed
2 cups shredded Oaxacan cheese
1/2 cup crema Mexicana or creme fraiche
12 corn tortillas
olive oil for frying
For Green Salsa
1 lb tomatillos
4 serrano peppers
1 poblano pepper
1/4 white onion
3 large garlic cloves
1/2 bunch fresh cilantro
1 tbsp olive oil
salt to taste
Directions
For Green Salsa
Remove the husks from the tomatillos and the stems from the serrano peppers and rinse the tomatillos and peppers under cold water and place them in a medium saucepan and cover with water. Bring to a boil then reduce heat to simmer and cook for 5 minutes. Add 1/4 onion and 2 large garlic cloves and continue cooking for 5 more minutes. Remove from heat.
Meantime on the grill, stove top or under the broiler, fire roast the poblano pepper until scorched on all sides. Remove the scorched skin, stem and seeds and place in a blender. Add the cooked tomatillos mixture and process until semismooth.
In a large skillet, heat 1 tablespoon of olive oil and add one garlic clove. Cook garlic until aromatic, then discard. Add tomatillo mixture and bring to a boil. Reduce heat and simmer for 10 minutes. If too thick, add more water and if too thin, continue cooking until reduced to right consistency.
To Assemble Enchiladas
Preheat the oven to 350 degrees Fahrenheit.
In a bowl, combine the crab lump meat with 4 tablespoons of the green salsa and set aside.
Next, heat 1/2 cup olive oil in a frying pan over medium heat and fry 1 tortilla at a time, 15 seconds per side. Remove the tortilla and dip it in the green salsa and place flat on a plate. Add 2 tablespoons of crab meat mixture and 1 heaping tablespoon of shredded Oaxacan cheese and distribute filling in the center of the tortilla. Roll the tortilla with the crab filling into a taco and place it on a small baking dish. Repeat until done with all the tortillas. Add a few tablespoons of the green salsa on top of the enchiladas then sprinkle with the remaining cheese. Bake uncovered in the preheated oven for 15 minutes or until the cheese melts.
To serve, distribute 2 tablespoons of the green salsa evenly on a dinner plate then place 3 enchiladas over the sauce and garnish with crema Mexicana.