Eggplant Tostadas with Creamy Yogurt Sauce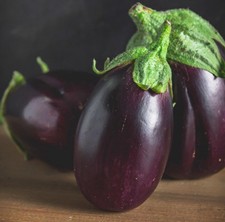 Recipe Date:
April 12, 2020
Measurements:
Imperial (US)
Eggplants are readily available in Mexico, and I developed this eggplant tostada with creamy yogurt sauce recipe because of its versatility. It can be served as a topping for tostadas, a dip with chips or sourdough bread or as an accompaniment to the main dish – it's hearty and delicious and pairs well with various Ceja wines such as our Chardonnay, Pinot Noir, Vino de Casa Red and Merlot.
Ingredients
For Eggplant
2 large eggplants, rinsed and cut in ½ inch cubes
1 large Maya, yellow or white onion, diced
1 serrano pepper, minced
6 garlic cloves, minced
1/3 cup olive oil
salt and pepper to taste
crumbled queso fresco or your favorite Mexican cheese for garnish
For Creamy Yogurt Sauce
1 cup plain yogurt
1/3 cup buttermilk
2 chipotle peppers in adobo sauce
1 large garlic clove
1/8 tsp black pepper
1/8 tsp cayenne pepper
1/8 tsp cumin
Kosher salt to taste
1/3 cup cilantro, finely chopped
For Tostadas
24 corn tortillas, small or medium
3/4 cup oil for frying
Directions
For Eggplant
Heat oil in a pan and add onion and serrano pepper. Stir and cook for 5 minutes. Add the garlic and cook until translucent (about 5 more minutes). Add cubed eggplant to the onion mixture, season with salt and pepper, and sauté for 15 minutes. Lower heat, cover and cook for 20 additional minutes while stirring frequently. Texture should be opulent and creamy.
For Creamy Yogurt Sauce
Place all sauce ingredients in a food processor, except cilantro, and process until creamy. Add finely chopped cilantro, taste and adjust salt, cover and refrigerate.
For Tostadas
Heat the oil in a small frying pan over medium high heat. When the oil is sizzling, add one corn tortilla and lower the heat to medium. Flatten the tortilla with tongs and when it's crisp and golden, flip the tortilla. Fry until golden and remove and drain on paper towels. Repeat with remaining tortillas and set aside.
Assemble
Spread 3 heaping tablespoons of eggplant salsa on a tostada, drizzle with creamy yogurt sauce and garnish with crumbled queso fresco.
Vegan Option
Omit the creamy sauce and crumbled cheese.