Enchiladas Rojas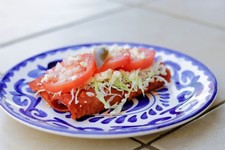 Recipe Date:
June 15, 2020
Measurements:
Imperial (US)
Enchiladas originated in Mexico thousands of years ago in the Mayan peninsula and central Mexico. They are one of Mexico's most treasured national dishes and popular in Mexican cuisine.
An enchilada is a corn tortilla dipped in a savory chili sauce and stuffed with various fillings such as meats, seafood, legumes, potatoes, vegetables, cheese or a mixture of multiple ingredients. Sauces can also be added to cover the enchiladas like salsa roja, salsa verde or mole.
This is my mother-in-law Juanita's delicious recipe typical from her village Aguililla, in the state of Michoacán. It can be prepped vegan, vegetarian or with animal protein.
Ingredients
16 medium corn tortillas
1 cup crumbled Cotija cheese
1 cup extra light olive oil
For Salsa Roja (Red Sauce)
12 dry Guajillo chilies
2 dry Ancho chilies
6 garlic cloves
10 peppercorns
pinch of cumin
pinch of Mexican oregano
water or chicken stock
1 tbsp olive oil
salt
For Filling
1 medium white onion diced small
2/3 cup water
1/3 cup apple cider vinegar
1 tbsp sugar
1/2 tsp Mexican oregano
pinch of salt
For Toppings
2 cups finely shredded cabbage
4 medium tomatoes sliced crosswise
pickled jalapeño peppers
Directions
For Salsa Roja (Red Sauce)
Remove stems, seeds and veins from Guajillo and Ancho chilies. Rinse them in water. Place the chilies in a bowl and cover them with water or chicken stock to soak and rehydrate for at least half an hour.
Place the reconstituted chilies mixture, garlic cloves, peppercorns, pinch of cumin and oregano in a blender and process until creamy. Add more water if too thick.
In a medium stock pot, heat 1 tablespoon of olive oil then add the chili mixture slowly while stirring. Bring to a simmer, adjust salt to your taste and cook for 15 minutes.
For Vinegar Mixture Filling and Toppings
Place one medium white onion diced small in a small bowl and cover with warm water -- sprinkle with salt and stir. Keep the onion in water solution for at least 15 minutes to reduce the onion's pungency.
In a separate bowl add water, apple cider vinegar, sugar and pinch of salt – mix well until sugar and salt are dissolved. Add Mexican oregano and stir. Strain the onion and add to the vinegar mixture.
Assembling Enchiladas
In a small frying pan, heat the oil until hot. Place a tortilla in the frying pan and fry for 20 seconds per side then dip in enchilada sauce. Place one tablespoon of crumbled cheese and one teaspoon of vinegar/onion mixture on the tortilla then roll it like a taco. Repeat until done.
Serve four enchiladas on a dinner plate, top with shredded cabbage, one teaspoon vinegar/onion mixture, sliced tomatoes, crumbled cheese, slices of the pickled Jalapeño peppers and a tablespoon of the vinegar from the Jalapeño peppers.