Fish Tacos al Pastor with Habanero, Pineapple and Tomato Salsa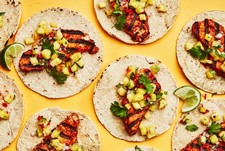 Recipe Date:
October 20, 2020
Measurements:
Imperial (US)
The slight sweetness and rich texture of al pastor -- achiote-marinated meats -- pair beautifully with juicy, fruit-forward red wines, especially Pinot Noirs from California. I love both our Ceja Vineyards Pinot Noirs -- one from Carneros and one from Sonoma Coast. They share the same DNA but exhibit different aromatics and flavors, and they're both the perfect match for tacos al pastor.
"Al pastor is a delicious bite of sort of sweet, sour, spicy, meaty, fresh, and very bright tastes of Mexico City." – Gabriela Cámara
Traditionally pork is used to make tacos al pastor but fish is also a delicious alternative. The fish must be firm such as mahi mahi, halibut, sea bass, swordfish or salmon.
I love mahi mahi tacos al pastor because they are bursting with flavor. Thick slices of pan-seared fish are stacked on a corn tortilla and topped with a habanero, pineapple and tomato salsa.
Regardless of the protein used as filling, tacos al pastor have become popular around the world.
Ingredients
For Fish
4 8-ounce mahi-mahi fillets
1/4 achiote paste
2 tbsps fresh orange juice
2 tbsps pineapple juice
2 tbsps fresh lime juice
2 tbsps distilled white vinegar
4 garlic cloves, minced
1 tsp dried oregano (preferably Mexican)
1/2 tsp coarse kosher salt
1/2 tsp ground black pepper
4 tbsps extra virgin olive oil
2 limes, thinly sliced
12 corn tortillas
For Habanero, Pineapple and Tomato Salsa
5 Roma tomatoes, cut into 1/4-inch cubes
1 cup white onion, diced small
1 cup pineapple, diced small
1/2 cup finely chopped fresh cilantro
6 tbsps fresh lime juice
6 habanero chiles or 8 serrano chiles, seeded, finely chopped
3 tbsps fresh orange juice
salt to taste
Directions
For Fish
Place fish in a glass baking dish. Whisk achiote paste and the next 8 ingredients in a medium bowl. Pour achiote mixture over fish; turn to coat. Cover and chill for 1 hour.

Place individual fillets on a hot pan with 1 tablespoon olive oil and sear for two minutes per side. Cut fish in thick slices and place on warm corn tortillas and serve with habanero, pineapple and tomato salsa and a glass or two of Pinot Noir.
For Habanero, Pineapple and Tomato Salsa
Mix all ingredients in a large bowl. Season to taste with salt. Cover and let stand at room temperature.