Grilled Oysters with Tomatillo Salsa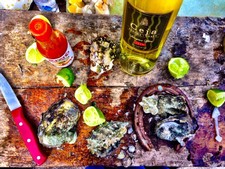 Recipe Date:
August 10, 2020
Measurements:
Imperial (US)
What better time than summer to consider the oyster? I reread one of my all-time favorite books, M.F.K. Fisher's masterpiece for the 10th time this weekend when my co-host on Taco Tuesday, Vino y Más, Dalia Ceja who's currently on maternity leave, agreed to make a cameo appearance on our Ceja Vineyards Facebook Live stream if we highlighted oysters. And of course I said yes because I love oysters raw or lightly grilled paired with our crisp Sauvignon Blanc.
The book Consider the Oyster is short enough to read in one sitting and it's about the history, preparation and eating of oysters. It's filled with anecdotes, recipes and arresting images. Do check it out!
Ingredients
3 dozen oysters (small to medium size)
4 tbsps unsalted butter at room temperature
1 garlic clove, minced
3 limes cut in eighths
finely grated Cotija or Parmesan Cheese
Tabasco or Tapatio salsa
tomatillo salsa (separate recipe)
Directions
In a small glass bowl combine the butter and minced garlic and heat in the microwave oven for 30 seconds to melt the butter.
Rinse and clean oysters under cold running water. Next place them over a medium hot grill and cook until warm to the touch – about 2 to 3 minutes. Wear protective gloves. Shuck the oysters and be careful not to lose any of the oyster juice and immediately serve with a few drops of garlic butter, lime juice, ½ teaspoon tomatillo salsa, a few drops of Tabasco or Tapatio salsa and a pinch of grated Cotija or Parmesan cheese.
If you prefer raw oysters on the half shell, omit the grilling step and dress them with the same toppings. They're equally delicious and tantalizing!