Lamb Birria Tacos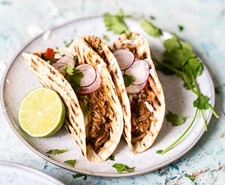 Recipe Date:
September 8, 2020
Measurements:
Imperial (US)
Birria is a delicious Mexican dish from the state of Jalisco and it can be prepared with a variety of meats like goat, lamb, beef, veal or pork. It can be served as a stew or as a taco filling.
In gastronomic terms, the word birria means: "Exquisite savory dish, full of culture and tradition."
I love this recipe – my maternal grandmother and I prepared it often! The aromas transport me back to her adobe kitchen in Las Flores, Jalisco! It is a tasty and hearty dish ideal for all occasions especially when the weather is cooler.
My favorite wine pairing with birria lamb tacos is a glass or two of Pinot Noir. It's a delightful culinary experience.
Ingredients
4 lbs leg of lamb, boneless
4 guajillo chilies
1 ancho chilie
3 small tomatoes
1 tsp pepper
1 tsp oregano
1/4 tsp cloves
1/4 tsp ground cumin
1/2 tsp ground thyme
6 garlic cloves, chopped
2 bay leaves
1 tsp salt
1 onion, cut in half moons
1/4 cup distilled vinegar
2 cups beef stock
1 cup water
salt to taste
18 corn tortillas
Garnishes
salsa de tomatillo
1 medium white onion, diced small
1 cup cilantro, chopped
8 lime wedges
Directions
For Chili Marinade
Remove the stems and seeds from the guajillo and ancho chilies, and rinse them in water. Place the chilies and the tomatoes cut in quarters in a pot and add enough water to cover them. Cook until tender. Place the mixture in a blender and add vinegar, water, pepper, cloves, oregano, cumin, thyme, garlic cloves and salt. Process.

For Meat
Wash the meat thoroughly, trim off excess fat and cut into large pieces. Coat the meat with the chili marinade.

Place the meat in a Dutch oven or deep pot with a tight lid. Add two cups of beef stock, chopped onion, and bay leaves. Place the pot on the stovetop and bring to a boil. Reduce heat, cover and simmer for two hours or until meat is tender.

Prepare To Serve
Remove the bay leaves from the broth. Place the meat on a cutting board, chop or shred with a fork and place in a large bowl or serving dish. Remove fat from broth and pour over the shredded meat. Warm corn tortillas and place two heaping tablespoons of meat on the tortilla and garnish with salsa, diced onion, cilantro and a squeeze of line. Or, serve in individual bowls with warm corn tortillas and garnish with chopped onion, cilantro and a squeeze of lime.

Notes
If the broth is too watery, simmer it in a saucepan until it thickens slightly.