Lobster Tacos with Mango Salsa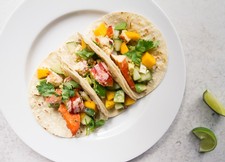 Recipe Date:
December 31, 2020
Measurements:
Imperial (US)
These buttery lobster tacos with a zesty mango salsa and sliced avocado are the perfect combination of savory and delicious freshness. The tangy salsa enhances the sweetness of the lobster meat in this easy to make taco.
With this quick and fast cooking method, it's the best lobster tail taco recipe for festive holiday celebrations like New Year's Eve and date nights at home. And paired with a glass or two or our delicious Bella Flor Rosé and Pinot Noir wines, it's the perfect ending to a challenging 2020!
Ingredients
6 lobster tails
1/2 cup unsalted butter
2 large shallots, thinly sliced crosswise
8 garlic cloves, thinly sliced crosswise
1/4 cup olive oil
3 tbsps lemon juice
1 tsp cayenne pepper
1 tsp paprika
corn tortillas
sliced avocados
salsa de tomatillo (optional)
For Mango Salsa
1 large ripe but firm mango, medium diced
1/2 red onion, small diced
1/2 cup cilantro, coarsely chopped
1/4 cup fresh lime or lemon juice
1 Habanero chile, minced
2 tbsps vinegar from pickled jalapeño peppers
2 tbsps olive oil
pinch of Mexican oregano
salt and pepper to taste
Directions
For Mango Salsa
Combine all the Mango Salsa ingredients in a glass bowl. Taste and adjust salt and pepper and mix well. Cover and refrigerate if done the day before or hours in advance.
For Lobster
Butterfly the lobster tails. Using kitchen shears, cut along the center of the top shell lengthwise, all the way to the tail, but don't cut the tail. It's okay if you cut through the meat.
Split the shell. Using your thumbs and fingers to spread open the shell, gently pull the lobster meat upward, separating it away from the bottom shell. Remove the meat completely from the shell and cut it into medium bite size pieces.
Place the lobster in a glass bowl. Add sliced shallots, garlic, cayenne pepper and paprika and mix well. Add a little salt and pepper and stir. Add the olive oil and mix again.
In a wok or skillet over medium heat, melt the butter until bubbling and add the lobster mixture. Stir and cook on high heat until the lobster turns opaque, about 3 to 5 minutes. Add fresh lime or lemon juice and adjust salt and pepper to taste. Continue cooking on high heat until some of the liquid has evaporated, around 1 to 2 minutes.
Remove from heat and distribute the mixture on four dinner plates. Warm corn tortillas and place 2 heaping tablespoons of the lobster mixture on each tortilla and serve with mango salsa, an avocado slice and a drizzle of tomatillo salsa. It's decadent and delicious and it's the perfect dish to toast with our excellent wines for a healthy and fabulous New Year.