Mole Recipe Jalisco Style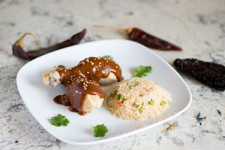 Recipe Date:
January 1, 2015
Measurements:
Imperial (US)
Moles come in various flavors and ingredients and each state in Mexico has its own version. In my home state of Jalisco, my maternal grandmother mamá Chepa used tomatillos to add acidity and balance this rich sauce. Mole is an ancient word for mix and is typically served over meat.
Ingredients
16 chicken drumsticks
6 chilies negros
6 chilies guajillo
6 chilies pasilla
5 tortillas
3 slices Mexican sweet bread
3 round tablets of Mexican chocolate (Ibarra brand)
4 tomatoes
10 peeled tomatillos
1 1/2 onion
1 bay leaf
1 small bunch of cilantro
2 heads of garlic
2 tbsps peeled pumpkin seeds
2 tbsps pecans
2 tbsps walnuts
2 tbsps blanched almonds
2 tbsps sesame seeds
1/4 tsp marjoram
1/4 tsp oregano
1/2 tsp thyme
1/2 tsp anise
1/2 tsp cumin
6 whole peppercorns
6 whole cloves
8 dried plums (prunes)
1 peel of cinnamon stick
water
10 cups chicken stock from cooked drumsticks
salt to taste
10 tbsps canola oil or extra virgin olive oil
Directions
For Chicken
To a large stock pot add 5 quarts of water and bring to a gentle boil. Add the washed drumsticks, one onion cut in half, one unpeeled garlic head, two tomatoes cut in half, a small bunch of cilantro, one bay and one tablespoon of salt.
As chicken cooks, spoon out foam and cooked blood that accumulate on the surface (should be a clear broth).
Simmer gently for around 25 minutes – do not overcook. Separate chicken from broth and discard onion and garlic head.

For Mole
Destem, devein and deseed all the dry chilies – reserve 2 tablespoons of the seeds. Wash the chilies and pat dry with a paper towel.
In griddle or medium pan at medium heat, toast the chilies a few at a time – turning once until toasted but not burned about 30 seconds per side – place in small stock pot with some of the chicken stock. Bring to a boil and simmer for 10 minutes – set aside.
Toast pecans, pumpkin seeds and almonds until golden and place in bowl.
Toast reserved chili seeds and sesame seeds and place in bowl.
Toast cumin, anise, thyme, marjoram, oregano, peppercorns and cloves for 60 seconds and place in bowl.
Add ½ cup canola oil and heat to high and fry tortillas until golden and place in bowl.
Fry slices of Mexican bread until golden and place in bowl.
In the same pan, sautee onion cut in quarters for two minutes – place in bowl.
Sautee tomatoes cut in half for two minutes and place in bowl.
Remove husks from tomatillos, wash and cut in half and sautee for two minutes and place in bowl.
Sautee garlic cloves, prunes and cinnamon peel and place in bowl.
Add Mexican chocolate to pan and cook 15 seconds per side and place in bowl.
In a blender or food processor, process the mixture a little at a time with chicken stock (about 6 cups) until smooth and place in large bowl.
Heat 2 tablespoons of olive oil in a large pan, add the processed mole sauce, bring to a simmer and cook for 10 minutes. Adjust salt and cook for an additional 10 minutes. If too thick, add more chicken stock and cook for five more minutes. If too thin, fry additional tortillas and process with some chicken stock and add to mole sauce and cook for five more minutes. Stir continuously while simmering.

To Serve
I love mole with rice! Place ⅓ cup of Mexican rice on the center of a dinner plate and place two drumsticks over the rice. Add mole sauce over the drumsticks and garnish with toasted sesame seeds. Serve with warm corn tortillas and a bottle of Ceja wine!