Pork Belly Tacos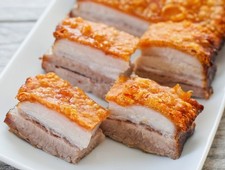 Recipe Date:
June 22, 2020
Measurements:
Imperial (US)
These easy pork belly tacos, tacos de panza de cerdo, will blow you away. Every bite of this healthy, paleo inspired pork belly taco recipe is filled with juicy meat and chipotle crema. You're going to fall in love at first bite.
Pork belly is a boneless cut of meat that is not cured, smoked or sliced. It's super tender and juicy! It comes from the fatty meat from the underside of the pig.
Both pork belly and bacon come from the same part of the pig, the belly. The difference between them is how they are prepared. Bacon is cured and smoked while pork belly isn't. If you take pork belly and cure it, brine it and smoke it, you'll end up with bacon!
Ingredients
For Pork Belly
3 lbs skinless pork belly
8 tsps salt
8 tsps sugar
16 corn tortillas
For Spicy Tangy Crema
1/2 cup crema
1/2 cup mayonnaise
2 tbsps minced chipotle peppers in adobo sauce
2 tbsps fresh lime juice
2 tbsps soy sauce
For Toppings
red or green cabbage thinly shredded
fresh cilantro, chopped
green onions, thinly sliced crosswise
jalapeňo peppers, thinly sliced crosswise
limes cut in wedges
Directions
For Pork Belly
Score the top layer of fat on the pork belly into a crisscross pattern. Season pork belly with salt, sugar and black pepper. Cover and refrigerate overnight or a minimum of 1 hour.
Preheat the oven to 450°F. Roast pork belly for 30 minutes in a heavy, oven-safe pan or skillet, fat side up. Reduce heat to 275°F and roast for an hour or more, until tender but not mushy. (Larger pieces of pork belly will take longer.
Remove from the oven and let cool to room temperature. Wrap tightly in plastic and refrigerate until ready to use.
Once chilled, slice into thick pieces and brown in a skillet on the stovetop until crisp. It's delicious alone, in tacos, soups, salads, pasta sauces, ramen and more!
For Spicy Tangy Crema
Whisk together crema, mayonnaise, minced chipotle peppers, fresh lime juice and soy sauce.
Assemble
Warm corn tortillas and top with desired slices of pork belly, toppings and crema. Squeeze a quarter of fresh lime over the top.