Roasted Poblano Pepper Tacos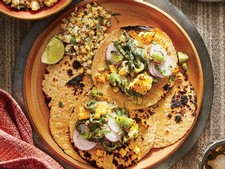 Recipe Date:
August 17, 2020
Measurements:
Imperial (US)
Rajas con crema is a taco filling made with fresh roasted Poblano peppers, mild green chiles typically used for chiles rellenos, rajas, crema poblana and other delicious Mexican dishes.
These easy to prepare tasty tacos are loved by vegetarians and meat lovers alike and they're served throughout Mexico. They're my personal favorites!
Ingredients
8 Poblano peppers
1 medium white onion, sliced in half moons
1 cup white corn kernels, raw
3 garlic cloves, minced
3 tbsps butter
1 cup Mexican crema or crème fraiche
3/4 cup Oaxaca cheese, shredded
Kosher salt and freshly ground pepper to taste
12 fresh corn tortillas
Directions
Char the poblano peppers directly on top of the gas burner on your stove, rotating them often until most of the skin is blistered and black. If you don't have gas burners, char the poblanos on a tray underneath the broiler or on the grill. Transfer them to a bowl and cover with a plastic wrap. When cool, rub off the skin, remove seeds and stems, and slice into strips about 1/4 inch thick 2-3 inches long.
Melt butter in a skillet over medium heat. Add the onion, corn, salt and freshly ground pepper and cook until onion is translucent. Add minced garlic and cook for one minute until aromatic. Add the poblano strips and stir well. Cook, stirring often, for about 2 minutes.
Pour in the crema, stir well, and cook until the cream has reduced into a thick sauce, about 2 more minutes. Reduce heat to low and sprinkle in the cheese. Keep stirring until all the cheese has melted. It should almost disappear into the sauce. Adjust salt.
Serve with warm corn tortillas and enjoy with a glass or two of Ceja Vineyards wines.