Tacos al Pastor with Pineapple-Jalapeño Salsa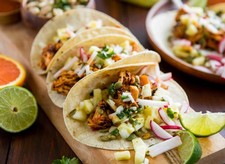 Recipe Date:
May 18, 2020
Measurements:
Imperial (US)
Tacos al pastor (shepherd style) get the name from the original lamb filling and they offer the perfect blend of sweet and spicy deliciousness. They were created in the 1930s in Puebla, Mexico, by Lebanese immigrants who introduced the region to classic shawarma: roast lamb served on a flour tortilla or pita bread (pan árabe). This creation was originally known as tacos árabes, and used meat cooked on a vertical, or upright grill.
Over time marinated pork replaced lamb and the tortilla replaced the pita with pineapple, cilantro, chiles and onions added to the mix.
This is my easy-and-tasty version of this most popular Mexican dish that anyone can prepare at home.
Ingredients
For Taco Filling
2 lbs boneless pork shoulder, sliced 1/4 inch thick
2 tbsps olive oil, plus more for brushing
5 garlic cloves
1 tsp dried oregano
1/2 tsp ground cumin
1/2 tsp pepper
1/4 tsp ground cloves
4 guajillo chiles, destemmed, deseeded and cut into 3 inch pieces
1/3 cup pineapple juice
1/4 cup distilled white vinegar
2 tbsps achiote paste
sea salt
warm corn tortillas
For Salsa
4 (1/2-inch-thick) slices fresh pineapple (or canned)
1/4 cup fresh cilantro leaves
1 medium red onion, sliced crosswise 1/2 inch thick
1 jalapeño, thinly sliced
3 tbsps fresh lime juice
salt to taste
Directions
In a medium saucepan, heat 2 tablespoons of oil. Add the garlic and cook over moderately high heat, turning occasionally, until lightly browned, about 1 minute. Stir in the oregano, cumin, pepper and cloves and cook until fragrant, about 1 minute. Add the chiles and cook, stirring, until blistered in spots, about 30 seconds. Add the pineapple juice, vinegar and achiote paste and bring to a boil. Remove from the heat and let stand for 5 minutes.
Transfer the chile mixture to a blender and puree until smooth. Season with salt. Scrape the marinade into a large bowl. Add the pork and turn to coat, cover and marinate for 1/2 hour minimum.
Light a grill or preheat a grill pan. Brush the pineapple and onion with oil. Grill over high heat, turning once, until lightly charred and softened, 3 to 5 minutes. Transfer to a carving board and tent with foil.
Remove the pork from the marinade. Grill over high heat until lightly charred and just cooked through, 3 to 6 minutes. Transfer to a carving board and let rest for 5 minutes. Cut the pork into thin strips and transfer to a bowl.
To prepare salsa, coarsely chop grilled pineapple and onion and place on a medium bowl. Add cilantro, jalapeño, fresh lime juice and salt to taste.
Warm corn tortillas and divide pork evenly among them. Top each taco with about 3 tablespoons of salsa.