Tacos de Huevos con Nopales (Egg and Cacti Tacos)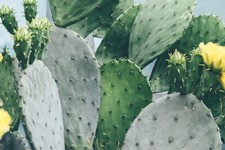 Recipe Date:
June 8, 2020
Measurements:
Imperial (US)
Nopal, commonly referred to as prickly pear cactus in English, is a staple in Mexican cuisine.
There are approximately one hundred and fourteen known species native to Mexico. The nopal pads can be eaten raw or cooked, used in marmalades, soups, stews and salads, as well as being used for traditional medicine.
Nopales are generally sold fresh in Mexico, cleaned of thorns, and sliced to the customer's desire on the spot. They can also be found canned or bottled as nopalitos. Cut into slices or diced into cubes, nopales have a light, slightly tart flavor, like green beans, and a crisp texture, making them easy to use in a variety of recipes.
Ingredients
8 eggs
3 cups cooked nopales, fresh or canned, medium diced (about 6 medium paddles)
1 medium onion, sliced in half moons
4 garlic cloves
1 tomato, cut in half
1/2 white onion (for boiling)
cilantro sprigs
salt and pepper
olive oil
corn tortillas
avocado slices
queso fresco, crumbled
your favorite salsa
Directions
If using fresh nopales, clean the cactus paddles by scraping thorns or spines from both sides. Lean the nopal against a cutting board while holding the base of the nopal with the left hand - a disposable glove can be worn. Hold the knife with the right hand and gently slide the blade down the face of the nopal to remove the nodes and thorns. Turn the nopal over and repeat the same procedure. Trim 1/4 inch around the edges and rinse in cold water. Diced the paddles.
In a saucepan over medium heat, combine cactus, 1/2 onion, tomato, garlic, cilantro springs, salt, and enough water to cover nopales. Bring to a boil. Reduce heat to simmer and cook for about 15 to 20 minutes or until nopales have changed color and are tender crisp. Drain nopales and rinse well under cold water. Discard the 1/2 onion, tomato halves, garlic and cilantro springs.
In a skillet over medium heat, heat oil. Add the sliced onions and cook until softened. Add nopales and cook for about 2 to 3 minutes. Add eggs and cook, stirring, until eggs are set and fluffy. Season with salt and pepper to taste. Remove from heat.
Serve with warm corn tortillas, garnished with avocado slices, queso fresco and a favorite salsa.
Note
In Mexico, eggs are used on many dishes not just for breakfast. This recipe is one of my favorite ways to use nopales for breakfast, lunch or dinner. It's delicious, hearty and satisfying.