Tacos de Lengua (Beef Tongue Tacos)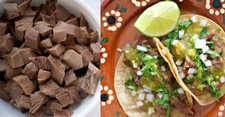 Recipe Date:
July 20, 2020
Measurements:
Imperial (US)
Beef tongue is often seasoned with onion and other spices and then placed in a pot to simmer for a few hours. After it is cooked the skin is removed. From this point many tasty recipes are prepared in countries all over the world.
Lengua is widely used in Mexican cuisine as well as in many French, Italian, Spanish, Russian, German, Polish, Portuguese, Romanian, Turkish, Persian, Japanese, Indonesian, Chinese, Filipino, Indian, South African, Argentinian, Brazilian, Uruguayan and Nicaraguan dishes. I love it. It is melt-in-your-mouth tender and flavorful.
Beef tongue may be found at local Asian markets, Mexican markets, or ordered by your local butcher.
Ingredients
3 to 4 lbs of beef tongue
2 large onions, peeled and cut in half lengthwise
2 tomatoes, cut in half
10 cilantro sprigs
1 garlic head, cloves peeled and crushed
6 bay leaves
1 tbsp peppercorns
2 tbsps salt
18 corn tortillas
salsa verde de tomatillo**
cilantro, chopped
red or white onion, diced small
lime wedges
radishes for garnish, thinly sliced
Directions
Wash tongue and remove any excess fat. Place tongue, onions, tomatoes, cilantro sprigs, garlic cloves, bay leaves, peppercorns and salt in a stock pot and fill with enough water to cover the tongue. Bring to a boil, reduce to a simmer, cover, and cook for 3 hours, until the tongue is soft to the touch and tender.
Remove tongue from the cooking liquid and let it cool for a few minutes. Using your fingers or a sharp knife, remove the skin and discard.
Slice the tongue in 1/4-inch slices and dice into small cubes. Place in a bowl and add some of the cooking liquid. Adjust salt.
Warm the corn tortillas. Place a large spoonful of the tongue meat in the center of a tortilla. Add a spoonful of salsa verde, diced onion, chopped fresh cilantro and a squeeze of lemon or lime. Garnish with radish slices.
**Fresh, bottled or canned salsa verde can be found in the Hispanic section of markets. To make your own, remove husks from 1 lb of tomatillos. Place tomatillos in a pan with 4 fresh serrano or jalapeño peppers, cover with water and simmer for about 12 minutes. Place tomatillos, peppers, 1/3 cup chopped onion, 1/4 cup cilantro leaves, 2 teaspoons of lemon or lime juice, and about a teaspoon of salt in a blender. Blend coarsely or until smooth. Adjust salt.