Tortilla de Patatas (Spanish Omelet)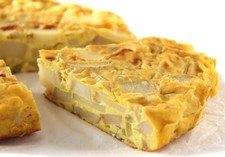 Recipe Date:
July 13, 2020
Measurements:
Imperial (US)
In the late 1980s when my children were young, our family hosted an exchange student from Spain and her name was Rosa Nieto. She was 14 years old and she was born and raised in Madrid. She spoke five languages well when we first met her in 1989, and she now speaks seven and works at the Spanish embassy in Oslo, Norway.
In the mid 1990s, my daughter Dalia and I visited Rosa and her family in Madrid, and we cooked authentic Spanish food daily. One of my favorite dishes is Tortilla de Patatas (Spanish Omelet) because it's savory and it can be enjoyed for breakfast, lunch or dinner.
I always like to add my own touch, and I've added one Serrano pepper to give it a slightly spicy component. Often, I also add Mexican longaniza (sausage) and asparagus. This dish can also be prepared with any type of potatoes.
Ingredients
5 medium russet potatoes
5 eggs
1 large onion
1 serrano pepper
salt
pepper
olive oil
Directions
Peel the potatoes and cut in six equal wedges lengthwise. Slice each wedge crosswise into thin triangles. Cut onion in half root to end and then thinly slice into half-moons. Finely dice Serrano pepper. Mix potatoes, onion, Serrano pepper and salt.
Preheat ½ inch of olive oil in a medium pan.
Add potato mixture and cook in olive oil until tender, stirring occasionally. Remove potato mixture with a slotted spoon into a strainer to cool and drain excess oil (place a plate underneath to catch the oil and it can be used again).
Beat the eggs in a large bowl and season with salt and pepper. When potato mixture cools down, add them to the egg mixture and stir well.
Pour one to two tablespoons of oil into a 10-inch, non-stick frying pan and heat to medium. Pour potato-egg mixture into the pan, reduce heat to medium-low, and stir mixture until almost set. Cook for a few more minutes.
Place a large plate over the pan, put the palm of your hand firmly on the plate and flip quickly.
Slide the tortilla back into the pan, uncooked side down. Use a spatula to shape the sides of the omelet if necessary. Cook the omelet for three to four minutes. Turn the heat off and let the tortilla sit in the pan for two minutes.
Slide the tortilla out of the pan onto a serving plate and enjoy with a glass of Ceja Vineyards Chardonnay and Pinot Noir.
Note
This dish is equally delicious cold too.