Located in the heart of downtown Napa and surrounded by world-class restaurants, our chic wine tasting salon, lounge and art gallery offers a complete sensory experience. Taste and purchase our award winning wines, sample artisan cheeses and gourmet food items and view original works by local artists. We welcome tourists and locals alike - ¡Bienvenidos!
Open to the Public Daily
Sunday - Thursday 11:00 am - 6:00 pm
Friday - Saturday 11:00 am - 8:00 pm
1248 First Street ● Napa, CA 94559 ● Phone: 707 - 226 - 6445
For detailed information click HERE
* * *
In the News: Pintos and Pinot? Ole!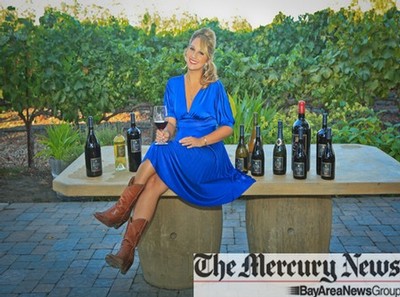 "Think of her as a Latina Anthony Bourdain -- in a bikini..."
Our very own Dalia Ceja is featured in the Food & Wine section of the San Jose Mercury News. She spills her Mexican food and wine secrets and upcoming passions projects! A big thanks to Jessica Yadegaran for writing this beautiful article. Check it out amigos!

Pick up your copy today! Click HERE to read Sunset Magazine's top Mexican food and Ceja wine pairings (recipes included)!
* * *
Ceja Featured On NBC's Today Show!
Exciting news! We were honored to have been featured on NBC's Today Show Weekend Edition this past Sunday, June 9, 2013!
Please check out our segment and invite your friends to watch our story from vineyard workers to award winning vintners. We are proud to represent and give voice to all the immigrants that have contributed so much to the wine industry! Cheers amigos!
* * *
Visit our YouTube page to watch fun cooking videos!
¡Salud!