Online Gift Certificate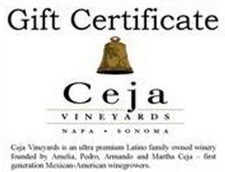 Ceja gift cards are redeemable for wine and gifts on our website. The gift card code is sent in a separate email after the transaction is completed . Ceja gift cards are re-fillable as well! Simply call or email us.
To redeem the gift card online, enter the gift card code (emailed separately) at checkout in the "Have a Gift Card" box. If the gift card value is more than the purchase, your purchase will be zero and you will have a remaining balance on that card. If the card value is less than the cost of the purchase, you will see a balance due.