Dalia Ceja | Executive Marketing Director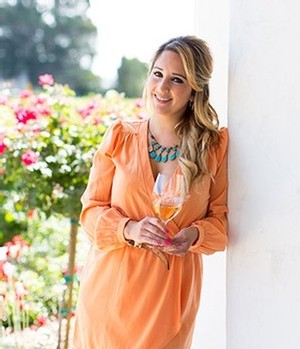 Dalia Ceja has been surrounded by wine, food and travel her entire life. She may have grown up in the wine industry but she comes from very humble beginnings. In the late 1960's her grandparents immigrated to the U.S. from Mexico, worked in the vineyards and settled in the Napa Valley. With her parents as her role models, hardwork and education have been the forefront of Dalia's drive to excel.
In 2008 she graduated from San Francisco State University with a B.A. in Marketing & Communications. After graduating from college she departed on a six month "Study Abroad" backpacking journey through South America, learning, exploring and enriching her career with real life experiences. This became the anchor for a blog that she would later launch in 2011.
In 2009 she brought her expertise to Ceja Vineyards as the Marketing Director, "a lot of minority wineries are developing their own style," she says. "For us, it's been about family and taking wine to a new level." And for Dalia, being a Ceja means being part of that evolution, which includes promoting awareness of authentic Mexican cuisine and its subtle, complex flavors—the perfect companion for pairings that yield a new wine experience.
"Technology and social media have been a great way to expand our presence," she says of the tweeting and blogging she does regularly. It is, however, cooking and the Ceja approach to wine and food that continue to be the biggest factor in opening doors. Dalia's growing role in the culinary world is reflected in the expanding presence of food on the winery's website, www.cejavineyards.com, and on YouTube, where she has published cooking demonstration videos.
Though she and her mother, Amelia Ceja, share many of the same talents and responsibilities, Dalia's dynamic energy marks the young woman as an identifiable presence and distinctive representative of Ceja Vineyards. It was Dalia's honor to be chosen for the role of co-host in the Napa segment of MSN.com's "Rediscover" web series in 2010. In 2011 Dalia was named 'Woman of the Year" through the Napa Valley Hispanic Chamber of Commerce for her entrepreneurial leadership and charitable contributions. In May of 2011 she launched her own lifestyle blog and website at DaliaCeja.com. She highlights her own passions to creatively focus on fashion, travel, food, drinks fiestas!
"You're never too young or too old to explore your passions," says Dalia, who is grateful to her parents for encouraging her to do just that. In 2014 she graduated from Sonoma State University and received her Executive MBA in Wine Marketing. In 2020, Dalia received The North Bay Business Journal's Latino Business Leadership Award and gave birth to her daughter, Luna Isabella, during a global pandemic. In March of of 2022, Dalia was interviewed by Forbes Magazine, "How This Mexican-American Wine Leader Is Taking Her Family Winery To The Next Level" and helped bring brand awareness from a global audience. In October of 2022, Dalia was selected to be inducted into the San Francisco State Univeristy Alumni Hall of Fame and was honored through such a prestigious academic community. Earlier this year, she was also accepted into the Napa Valley Vintners Association Leadership program and is currently working towards enhancing her leadership postion in the wine industry while giving back to the community.
With her personal flare and her passions for wine, food and branding, Dalia is set to leave her mark!