Our Vineyards
Photogallery rendered here.
Terroir, (pronounced tair wahr), is a French term and strictly translated refers to the earth. In the Carneros Region, the term is defined as a special set of conditions encompassing all the components that affect the grapes grown here. The soil's chemistry and physical structure, the slope and orientation of the hills and valleys and the weather are all factors of terroir.
Located approximately 40 miles northeast of San Francisco, the Carneros Region's moderate climate is created by fog, moist air, and cool breezes from the Pacific Ocean. Protected from harsh weather by the Coastal Range, Carneros summer days are warm with cool nights and winters are mild. As a result, grapes stay on the vine longer, reaching high acidity and full flavor development.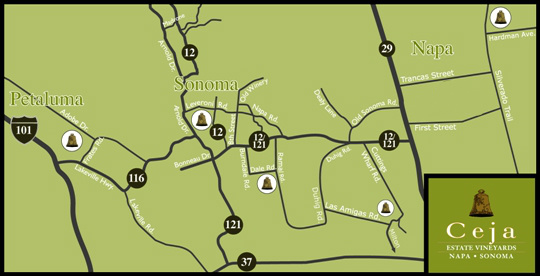 At Ceja Vineyards, we match vines to terroir, planting each variety where it grows best. Our wines are a true reflection of their origins.
Las Amigas Road, Napa: Chardonnay, Pinot Noir
Hardman Ave, Napa: Cabernet Sauvignon
Arnold Drive, Sonoma: Chardonnay, Merlot
Dale Avenue, Sonoma: Pinot Noir
Adobe Road, Petaluma: Chardonnay, Pinot Noir, Sauvignon Blanc, Syrah, Arneis
*Our vineyard sites sit on private property and are not open to the public.
To taste our wines, make a reservation to visit our Sonoma wine tasting room.