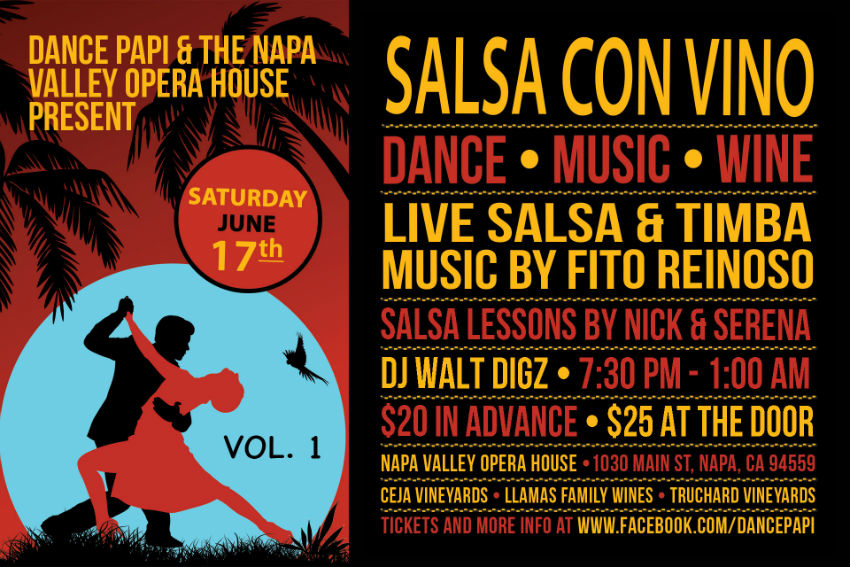 Dance Papi and the Napa Valley Opera House present "Salsa Con Vino (Vol. 1)," a lively celebration of dance, music and wine on Saturday, June 17th. This community dance event includes live salsa and timba music by Fito Reinoso, salsa lessons by Nick & Serena and DJ Walt Digz to keep things hot on the dance floor.
7:30 pm | Doors Open
8:00 pm - 8:45 pm | Salsa Lesson by Nick & Serena
8:45 pm - 10:45 pm | Live Salsa & Timba Music by Fito Reinoso
11:00 pm - 1:00 am | DJ Walt Digz
Tickets:
$20 in advance online
$25 at the door
Napa Valley Opera House
1030 Main St
Napa, CA 94559
Wine, Beer & Cocktails Available for Purchase
Dress: Casual & Mature
No baseballs hats or sports jerseys
21+ with ID
Featured Band:
For over a decade, Fito Reinoso has made the Bay Area his home and is the only Cuban born based sonero in the San Francisco Bay Area performing a variety of styles, from the most recent urban Havana grooves to timba and classic son, all with a voice reminiscent of the late and beloved Cuban singer, Beny More.
Featured Instructors:
Nicholas Van Eyck and Serena Wong are the founders and directors of Salsa Vale Todo: the premier Bay Area Cuban salsa dance group. Dancing professionally since 2000, this dynamic duo have taught and performed at salsa congresses & festivals all over the world.
Featured DJ:
DJ Walt Digz is one of the most requested salsa, timba & reggaeton DJs in California. Walt's great song selections, mixing skills and ability to elevate the mood of any dance venue keeps him in heavy rotation at numerous clubs & festivals.
Highlighted Wineries Include:
- Ceja Vineyards is an ultra-premium Latino family owned winery founded by first generation Mexican-American winegrowers in the Napa and Sonoma Valleys.
- Llamas Family Wines is a venture aimed at honoring our family's journey from ranchers & farmers to field workers and finally vintners.
- Truchard Vineyards is a small, family-owned winery in the Carneros region of Napa Valley. Proprietors Tony and Jo Ann Truchard have managed a successful vineyard and grown exceptional grapes for nearly 40 years.
Like Dance Papi's facebook page for updates on future events: facebook.com/dancepapi

TGIF! Who doesn't love a bunny in a basket? Our kitty, Chica Bonita, invites everyone to hop by our Sonoma tasting room and stock up on Ceja wine for your adult Easter egg baskets.
Have a fabulous weekend!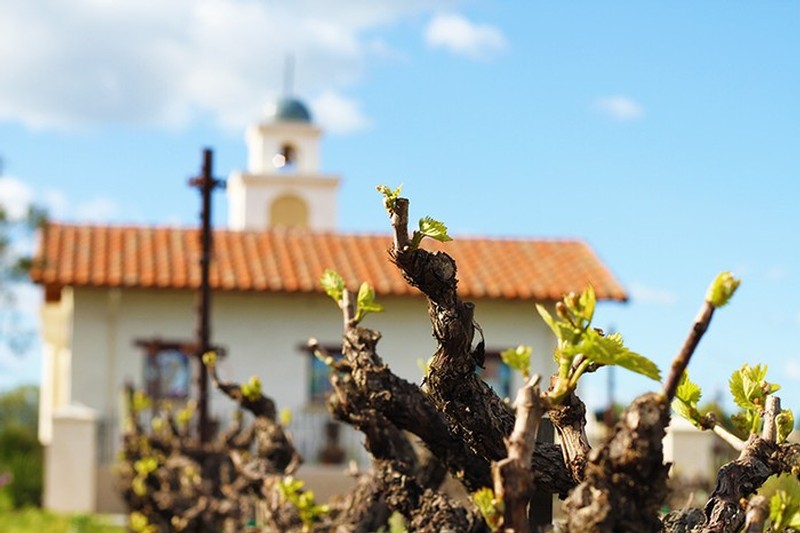 The first tender Chardonnay buds of the growing cycle have emerged from the dormant vines marking the beginning of our growing season! Each bud contains all of the ingredients in tiny forms — shoots, leaves, tendrils and berries, yet to be grapes. As the sap begins to flow, they begin to grow! It's definitely a magical time to be in Napa and Sonoma Valley. We look forward to hosting you at Ceja in the near future.
Stay tuned for more 2017 harvest updates!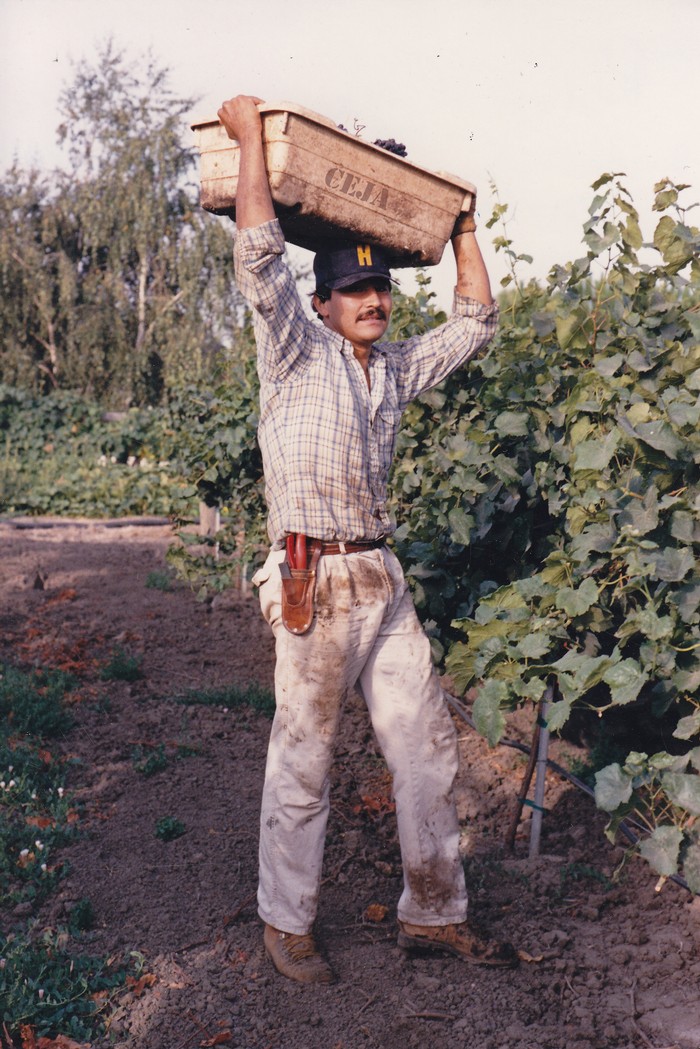 Pedro Ceja harvesting grapes in 1982
Behind The Vines: Meet Pedro Ceja, Founder & Engineer
If there's a way to build it, Pedro Ceja will find it. Coming as he did to the Napa Valley at the age of 12 and working with his father—a bracero—Pedro's heart has always been in Napa's vineyards and the pursuit to leave a legacy of the Ceja familia.
Pedro, who graduated from Napa Valley College in 1977 with a degree in electrical engineering, is a great fan and supporter of the NVC where he studied telecommunications, electronics and radio frequencies is grateful for the education he received. "The NVC gave me the opportunity to secure my future and my existing job as an electrical engineer with Thermo Fisher Scientific, Inc." The company is the world leader in scientific products and services with revenues of $17 billion and approximately 50,000 employees in 50 countries. The company's mission is "to enable our customers to make the world healthier, cleaner and safer."
Pedro knows from his work as an engineer that even the simplest product represents a lot of skill and work. He brings a forward-looking practicality and analytical eye to the family's expanding the Ceja winery plans. "Creating a beach with one grain of sand at a time is a lot of work." As Pedro unfurls the architect's rendering of the new winery building that Pedro designed many times in his mind over the years, there's an understated pride in his explanation of each detail. There's also a sense that this milestone in the life of the family is only the beginning of a long future that Pedro can already see.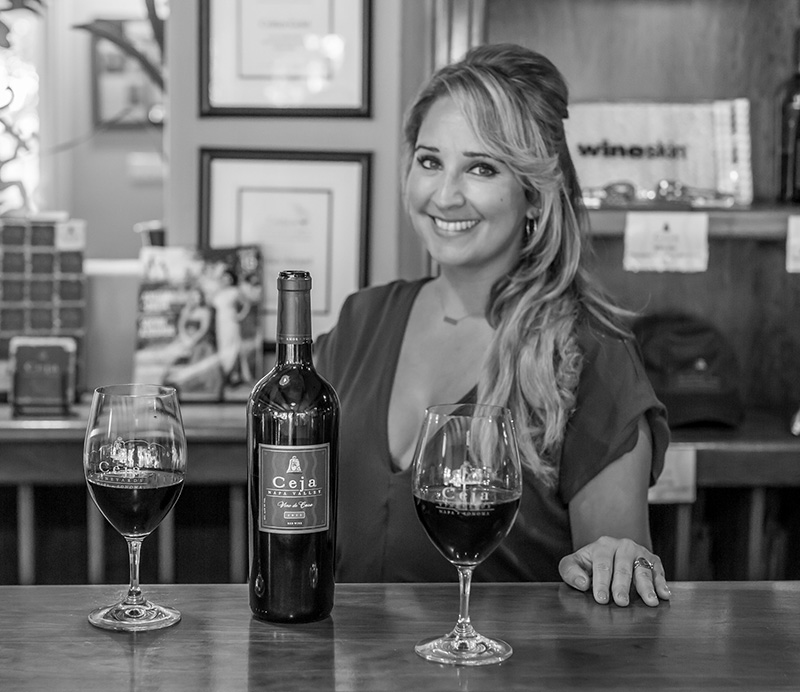 Last week I was honored to share my story with Cru Podcast - Stories from The People Behind the Wine! I had a blast chatting with founder, Chappy Cottrell, about my career, passion projects, family story and much, much more!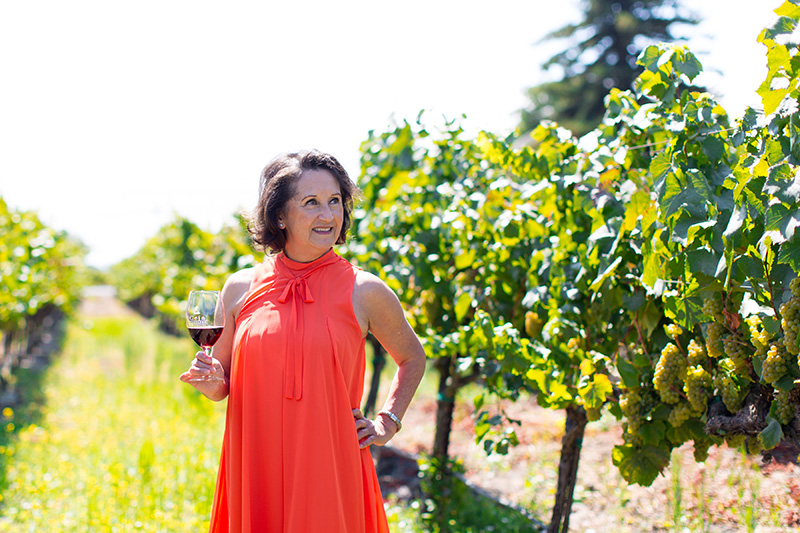 Behind the Vines: Meet Amelia Morán Ceja, President & Founder
Her philosophy: Amelia Morán Ceja reveals her conviction that the diligent pursuit of a passion is key to success. She notes, "My grandmother told me, whatever you do, if you love it and learn everything you can about it, you will always be successful."
Amelia's love affair with food started in Las Flores, Jalisco, Mexico, where she began cooking on her own at the age of eight in the farm kitchen of a strong maternal grandmother. "Mamá Chepa" taught Amelia to cook with fresh, home grown ingredients. When Amelia joined her father, Felipe Morán, in Rutherford in 1967, Amelia threw herself into her new world. On her first weekend in the Napa Valley, Amelia was in the vineyard, harvesting with a knife that seemed half the size of the petite 12-year old.
Along with her key roles at Ceja Vineyards, some of her other passions include social justice causes and giving back to the community. She's the recipient of the 2016 Dolores Huerta Farmworker Justice Award and she's honored to share her story as the Keynote Speaker at the upcoming MLK Monday Community Celebration. Join her for a community gathering celebrating the life of Dr. Martin Luther King while continuing his legacy through a day of action and compassion.
MLK Monday Community Celebration Event - Everyone is Welcome!
When: Monday, January 16th, 2017
Where: St. John the Baptist Catholic Church
Address: 960 Caymus St, Napa Ca 94559
Time: 7pm
Cost: Free

Photo by Sarah Deragon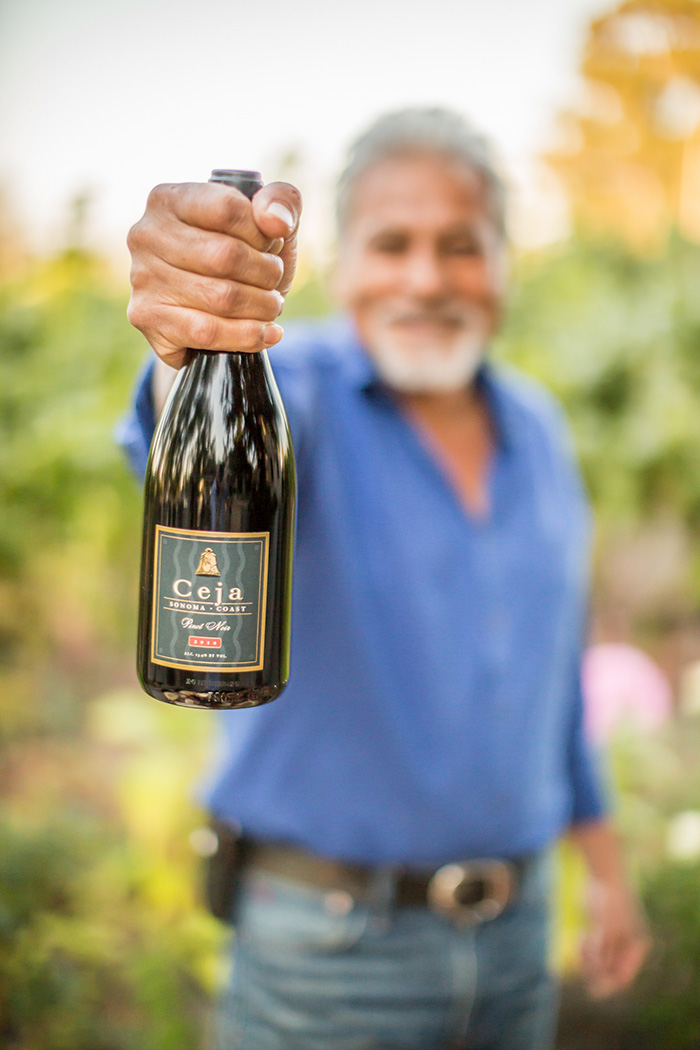 Behind The Vines: Meet Armando Ceja, Winemaker
His philosophy: "Making wine is more like making preserves than jam," he says; he favors preserving bright fruit over highly-extracted flavors and high alcohol because it creates wines that stay balanced, youthful and vibrant.
Armando made his first wine when he was 17 years old. He jumped at the offer of a free lot of Duckhorn Vineyards Cabernet Sauvignon grapes turning it into his first vintage. After earning an associate degree in chemistry, he graduated in 1985 from UC Davis with a BS in Enology. From there, he worked at Kenwood Vineyards in both winemaking and vineyard management before joining the management team at the Christian Brothers winery on Mt. Veeder. His experience as a viticulturist and enologist continued to thrive from there.
Balance and perspective is key for him as a winemaker. "I know my roots," says Armando. "I enjoy being with my crew and I enjoy being with other winemakers. I am who I am. My job is to ensure that the fermentation is going clean and that the things that make good wine are in place. The biggest compliment is when someone says, 'I had a glass of your wine. I really enjoyed it.'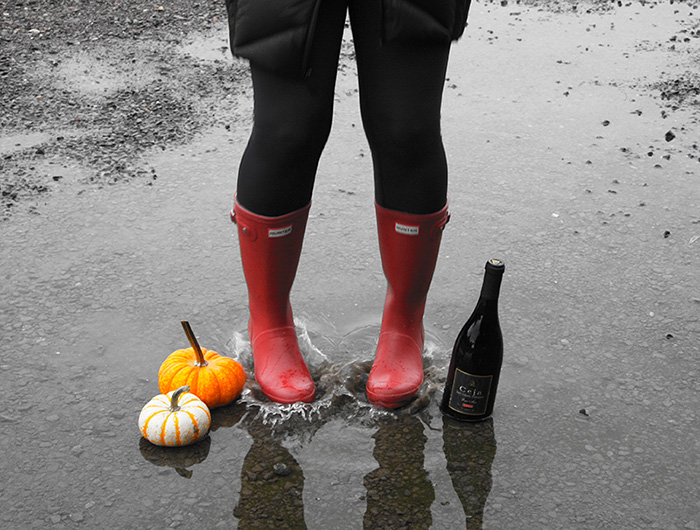 October is a magical time to visit Napa and Sonoma Valley. The change in season is like a kaleidoscope of vibrant colors displaying burnt orange, red and yellow hues. In honor of this rainy day weather, learn how to make my mom's savory cauliflower soup paired with Ceja Pinot Noir or Chardonnay. It's the perfect fall recipe + wine pairing!
Savory Cauliflower Soup
Serving Size: 8
Cook Time: 1hour
Difficulty: Medium
Ingredients
1 cauliflower rinsed and cut into flowerets
4 leeks rinsed and thinly sliced crosswise
1 chopped yellow onion
....READ MORE....

In honor of Hispanic Heritage Month, Amelia and Dalia Ceja were selected to be featured on NBC Latino. We're grateful to our family and friends for the continued support!

Mission San Francisco Solano has a controversial past that includes grape growing and winemaking. Dalia Ceja highlights the emergence of this landmark.
Mission San Francisco Solano was the 21st, last and northernmost mission in Alta California. It was the only mission built in Alta California after Mexico gained independence from Spain.
The Mission was successful given its short eleven year life but was smaller in number of converts and with lower productivity and diversity of industries than the older California missions.
The mission building is now part of the Sonoma State Historic Park and is located in the city of Sonoma, California.