In the early morning hours, winegrower and wine-maker Armando Ceja, takes a look back and reflects upon the latest growing season. Harvest is in full force in the background! Get ready for our 2010 Chardonnay!

Derived from the Arabic 'al-bunduq' (meaning 'hazelnut'), albóndigas are thought to have originated as a Berber or Arab dish imported to Spain during the period of Muslim rule. From Spain, these tasty meatballs made their way into Mexican cuisine. Amelia Ceja prepares an albóndiga stew and pairs the savory dish with Ceja Vineyards' Carneros Merlot.

Grilling tasty protein has never been so easy! Amelia marinates and prepares chicken breast fillets and skirt steak with veggies galore! Suggested wine pairing: Ceja Vineyards Vino de Casa Red Blend.

Long a favorite from the Mexican state of Jalisco, tortas ahogadas have satisfied countless adventurous eaters. Dalia Ceja serves up this "drowned" dish using traditional birote bread, chicken breast and an assortment of veggies that's topped off with tomato and chile de arbol salsa. What's your favorite type of torta ahogada?

As one of South America's most popular seafood dishes, ceviche has inspired many palates with its citrus and spicy flair. Amelia Ceja creates a salmon ceviche this time around and pairs it with Ceja Vineyards' Carneros Pinot Noir.

Why throw away day-old bread when you can turn it into yummy bread pudding! Also known as "broodpudding", "Capirotada," "Migas" and "Pudín de Pan", this tasty dish is revered all over the world. In this episode, Dalia Ceja complements the bread pudding with Ceja Vineyards' Cabernet Chocolate Sauce as well as Ceja's Cabernet Sauvignon.

Long a favorite of Amelia Ceja, this creamy cauliflower soup is sure to warm your belly and taste buds! Wine Pairing: Ceja Vineyards' Carneros Chardonnay.
(Serves 8)
Ingredients:
1 cauliflower rinsed and cut into flowerets
4 leeks rinsed and thinly sliced crosswise
2 medium potatoes peeled and cut in quarters
1 serrano pepper finely chopped
4 garlic cloves finely chopped
3 tablespoons of extra light olive oil
10 cups chicken broth
4 tablespoons of chives finely chopped
4 tablespoons of cilantro finely chopped
Salt and white pepper to taste
Directions:
• Heat oil in large saucepan and sauté leeks, serrano pepper and chopped garlic, and cook until translucent (about 8 minutes).
• Add cauliflower flowerets, quartered potatoes and chicken broth and bring to a boil. Reduce heat, cover saucepan and simmer for 20 minutes (or until potatoes and cauliflower are tender).
• In a blender, process cauliflower mixture until smooth and creamy, and return it to saucepan. Stirring frequently, simmer for 15 minutes until desired thickness (add more chicken broth if too thick). Add salt and white pepper to taste.
• Serve immediately and garnish with finely chopped chives and cilantro.

Using the base pesto sauce she made in Part 1, Dalia Ceja creates three delectable dishes: sun-dried tomato and a bow-tie spicy cilantro pasta and Parmesan bruschetta. Dalia then pairs these tasty treats with Ceja Vineyards' Carneros Pinot Noir.

Dalia Ceja prepares homemade pesto in this episode. The flavors are savory and tangy. Ceja Vineyards Vino de Casa Red Blend is called upon to liven things up!

Beans and wine you ask? Well, here at Ceja we get down and grub on the nontraditional food and wine pairings…and why not? Growing up in a Mexican household, beans, tortillas and rice have been a staple of ours since I can remember. They have also played a stereotypical role in American culture that have downgraded the authenticity of beans giving them a bastardized symbol of a poor mans Tex-Mex meal. I happen to think otherwise.
I have been cooking alongside my mom since I was a little girl. I remember standing on a stool next to the kitchen counter using both hands to stir the pot of arroz con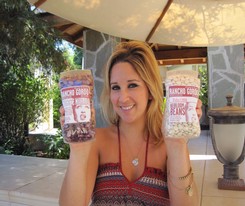 leche or Mexican hot chocolate, as tantalizing smells of cinnamon and sweetness infiltrated our kitchen. From that moment on I knew that food would always play an integral role in my life where wine would slowly make its grand entrance down the road.
However, given that I come from a huge extended family, fiestas and gatherings were always a prominent excuse to bring the goods to the table: homemade tamales, chiles rellenos, sopes, enchiladas, salsas, flan and so much more. Funny enough, there was as much food on the table as there was wine. Yep, more wine than beer or margaritas.
Now, when it comes to pairing wine with Mexican food, the most important rule to remember is to just drink and eat what you like! Although this rings true for many of us, there are some Mexican dishes that just plain taste better with certain wines. Here are some of my foolproof combinations that I absolutely love (all dishes are available under the recipes tab on our website).
*Mole Negro de Oaxaca paired with Ceja Syrah
*Salmon Ceviche paired with Ceja Pinot Noir
*Camarones a la Dalia paired with Ceja Chardonnay
Stay tuned for weekly mouthwatering recipes that will leave you begging for more…
¡Ole!
Dalia Ceja