Amelia Morán Ceja | President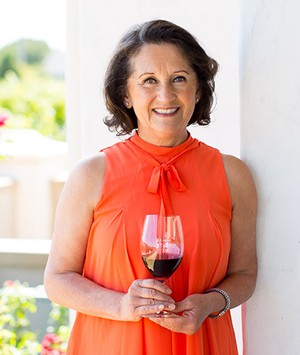 At the dining room table that occupies a prominent place at the rural "world headquarters" of Ceja Vineyards, Amelia Morán Ceja reveals her conviction that the diligent pursuit of a passion is key to success. "My grandmother told me," she says, leaning forward over her morning mint tea, "'Whatever you do, if you love it and learn everything you can about it, you will be successful—and not dependent on a man.'" It's advice that both Amelia and her husband, Pedro Ceja, have banked on.
A strong matriarchal tradition in her family fostered Amelia's independent spirit, but more than anything, Amelia feels it is flavors and her experience with food that have shaped her life choices. Long before the California legislature recognized Amelia as "Woman of the Year" in 2005 for "breaking the glass ceiling in a very competitive business," the first Mexican-American woman ever to be elected president of a winery was on the frontier of wine. The dynamo behind more than 100 video blogs since 2008 on preparing Mexican cuisine and pairing it with wine, Amelia has introduced thousands to exciting flavor combinations they never dreamed of.
Amelia's love affair with flavors started in Las Flores, Jalisco, Mexico, where she began cooking on her own at the age of eight in the farm kitchen of a strong maternal grandmother. "Mamá Chepa" taught Amelia to cook with fresh, home grown ingredients and to identify edible wild mushrooms by smell. When Amelia joined her father, Felipe Morán, in Rutherford in 1967, along with her older sister and mother, Francesca Fuentes Morán, Amelia threw herself into her new world. On her first weekend in the Napa Valley, Amelia was in the vineyard, harvesting with a knife that seemed half the size of the petite 12-year old.
That vineyard wasn't just any vineyard. It was Robert Mondavi's Tokalon Vineyard, where her classmate and future husband, Pedro, was also picking Merlot with his family. In the coming months at Robert Louis Stephenson School in St. Helena, Amelia advanced from the "academically challenged" level of 7th grade to the "most challenging" level in a matter of months, but it wasn't until she was studying history and literature at UC San Diego, and collecting $5 per person from friends to create authentic Mexican cuisine wine dinners for them, that her future became clear: Pedro, cooking, and wine were the great loves of her life. In 1980, Amelia and Pedro pooled their dreams and marriage vows, and the energetic Amelia joined Pedro, his brother Armando, and their parents Juanita and Pablo Ceja in methodically creating Ceja Vineyards.
When the family chose its first president in 1999, Amelia, with nearly a decade in the wine industry and always a firebrand ready for new challenges, was the obvious choice. In the early years, being president also meant being PR and marketing director, compliance person, executive chef, grape picker, and general pick-up person.
Amelia's mettle is tempered by a genuine fondness for people and a talent for making them comfortable. "It's easy to get attention if you're nice and genuine," explains Amelia about her approach to business and life. "It's just so much easier to be nice!"
It's an approach that serves the family business well both with the public and internally: Ceja Vineyards was twice named "Best Boutique Winery in Napa & Sonoma" by Best of Napa and Sonoma Valleys Magazine, based on its 2008 and 2009 popular polls. "We like efficiency, but nurturing and warmth must be present with efficiency," says Amelia. "Our team becomes part of our extended family. That comes from our culture," explains Amelia, who was named Business Woman of the Year by the Sacramento Hispanic Chamber of Commerce in 2008, "because it's about sharing."
Embracing both her Mexican heritage and American home, Amelia combines the best of what she finds in food and drink, tradition and innovation. "As a minority cellar, we are shaping the wine industry," explains Amelia, who was honored as the "most outstanding female leader, innovator and visionary in the wine field in the North Bay" by North Bay Business Journal at its 2008 Women in Business gala.
"We're embracing the best in both cultures and tossing away what doesn't work," says Amelia. "I don't want to be homogeneous; my experience is enhancing my adopted country. We're making both of our cultures better. Why not share what is wonderful—and keep it?" Salud!