Armando Ceja | Winemaker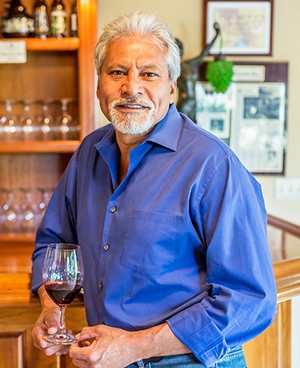 If you've tasted Ceja Vineyards' award-winning wines, you already know a lot about Armando Ceja: honest, tasteful, intelligent, full of life and the flavor of the Napa Valley. Capturing the essence and feeling of this special place is for him an instinctive art because he grew up in its vineyards, savoring its best fruit, and learning from the best in the business. He knows its terroirs in a way few winemakers do.
But then few Napa Valley winemakers have had the advantages Armando has. Being born into a seasonal farm worker's family and relocating, often on short notice, to various parts of the Napa Valley, a single whiff of spring grass can talk him back to the hill above Rutherford where the earth gave that particular scent to the landscape. He counts as advantages, too, a mother and grandmother who took pleasure in cooking and in the vocabulary of aromas and tastes, and working beside a top-flight vineyard worker—his father—from the age of six.
"There are no child labor laws when you're working with your parents," quips Armando. His joie de vivre is reflected in the wines he crafts from the Ceja family estate vineyards—vineyards he knows as both viticulturist and winemaker. After earning an associate degree in chemistry, he graduated in 1985 from UC Davis with a BSc in enology. From there, he worked at Kenwood Vineyards in both winemaking and vineyard management before joining the management team at the Christian Brothers winery on Mt. Veeder.
Though he loved the lab and winemaking, Armando had to admit that he wouldn't be happy if he wasn't in the vineyards. Wearing two hats means longer hours, but for him there's no other way. "It has a magnetism," he says of the viticultural side. "If you enjoy it, you embrace it. When it's an extension of who you are, the workload is a lot lighter." It's even lighter when the land is your own, he discovered when the family harvested their own vineyard for the first time in 1988, and Armando took charge of all Ceja's vineyard and winemaking details.
He's quick to admit that working in other people's vineyards did have its upsides for a young oenophile. "Growing up with Robert Mondavi in the neighborhood really helped us," he smiles, recounting how he and friend came upon some abandoned Mondavi estate wines from someone's party in a vineyard, and how, later when the Christian Brothers were reorganizing their cellars, his palate was broadened by exceptional 50-year old Bordeauxs. He jumped at the offer of a free lot of Burgess Cellar grapes when he was 17, turning it into his first vintage, sweetened by the feet of his girlfriend—now his wife.
"Martha knew what she was getting into when she married me," Armando laughs. With undeniable pleasure, he looks forward to working with his firstborn, Belen, who'll be working beside her father in the cellar soon—the second generation of Ceja winemakers.
As much as technical skill contributes to his winemaking, there's a remarkable core of passion and balance in Armando's perspective on what he does that results in remarkably balanced and pure wines. "What we've done here is a lot of inspiration," he says when pressed to brag about his award-winning wines, "and a lot of angels and people in our path."
Two of those key people, he will tell you, are his mother, Juanita, and his grandmother, who made food and its preparation a joyful experience every day. "That foundation in food and aromas and flavors helped me tremendously in winemaking," says Armando. The family matriarchs gave him an awareness and vocabulary that made it second nature to analyze the layers of flavor in everything he tastes. They taught him to savor freshness in produce, to enjoy and highlight its basic characters—which is the basis of his winemaking style.
His philosophy is easy to understand: "Making wine is more like making preserves than jam," he says; he favors preserving bright fruit over highly-extracted flavors and high alcohol because it creates wines that stay balanced, youthful and vibrant.
Vibrant is the only way to describe Armando's energy as he shares a glass of estate Chardonnay. There's spontaneous joy as his description of flavors tumbles like water, as if he's discovering this wine for the first time.
Balance and perspective are key for the winemaker and the man. "I know my roots," says Armando. "I enjoy being with my crew, and I enjoy being with winemakers. I am who I am. My job is to ensure that the fermentation is going clean and that the things that make good wine are in place. The biggest compliment is when someone says, 'I had a glass of your wine. I really enjoyed it.'"