Press | Newsroom Archive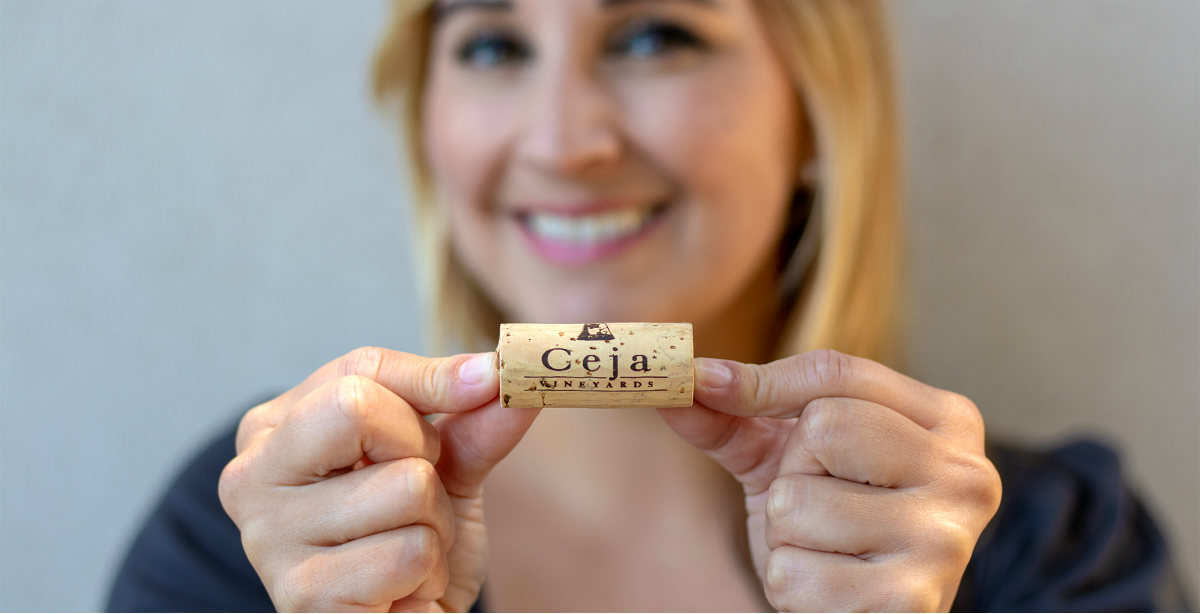 ---
Highlights
By Liz Thach, MW, Forbes - March 16, 2022
At the age of five, Dalia Ceja remembers walking behind her father, uncles and other vineyard workers, picking up fallen grape clusters and putting them back in the harvest bins. As a second generation leader in one of the first Mexican-American wineries in Napa Valley, Ceja Vineyards, Ceja is currently the SVP of Marketing & Sales, and is looking forward to taking the family winery to the next level.
~~~
By Janel Andronico, ABC 7 - October 8, 2021
In one generation, the Ceja family has gone from immigrant vineyard workers to grape growers and winery owners of Ceja Vineyards. The Mexican-American, family-owned winery was founded by Amelia, Pedro, Armando, and Martha Ceja, producing premium estate-grown wines from the Napa and Sonoma Valleys.
"People from all over the world come and experience Ceja vineyards because we have a unique story. We're relatable," explained Ceja Vineyards Director of Sales/Marketing Dalia Ceja. "We are one of the pioneering Latino family-owned wineries, and they want to know and learn what that's about."
~~~
By NBC News - September 20, 2021
NBC News' José Díaz-Balart speaks with Amelia Ceja and Lidia Maldonado, who both run California vineyards and are descendants of migrant workers. Ceja says it was her father's dream to come to the U.S. from Mexico to build a better life for his family, and it's important to her to pass those values onto her children and grandchildren.
~~~
By Sasha Paulsen, Napa Valley Register - September 9, 2021
This summer, as the Ceja family celebrated the 20th anniversary of the first release of their wines with fans from around the country, the joyful event had a bittersweet undercurrent: In July, Amelia Morán Ceja, president of Ceja Family Vineyards, had lost her father, Felipe, and earlier this year, her mother, Francisca. Ceja took the occasion to reflect on how her hard-working parents, and those of her husband, Pedro, laid the foundation for their achievements "and changed all of our lives forever."
~~~
By Tim Arango and Thomas Fuller, The New York Times - May 26, 2020
Locked down in their homes, the four former California governors clicked into a Zoom call and one after another described how they dealt with the crises that had defined their time in office. For Pete Wilson, it was the 1994 Northridge earthquake. Gray Davis evoked the electricity disaster that drove him out in a recall election, and Arnold Schwarzenegger and Jerry Brown lamented the Great Recession.
But the former governors agreed that nothing they confronted was as dire or will be more consequential than what the current occupant of the office, Gov. Gavin Newsom, now faces.
~~~
By CNN Newsource - November 2019
In California's Wine Country, one Mexican-American family is breaking barriers with their award-winning wines. The Cejas went from picking grapes to owning their very own winery in Napa. For the Cejas, running a successful wine business in California's Wine Country has been a labor of love. Pedro and Amelia Ceja were just 12-years old when they met in the vineyards.
~~~
By Latinas: From The Block To The Boardroom - November 19, 2019
Family and community is the bonding force for Latinx to thrive. As we listen to the Amelia and Dalia Ceja, the matriarch and daughter of the Ceja wine business, Amelia talks about her early journey from Jalisco to Sonoma. Amelia and Dalia share what's most important for women, to empower one another in these male dominated industries, to hold each other up and pursue higher education as the key to success.
~~~
By KTVU's Bay Area People - October 2019
Their story is, in many ways, the "American Dream." Amelia Ceja immigrated to Napa when she was 12 years old, where she and her family worked picking grapes. Now, she and her family own Ceja Vineyards, with Amelia being the first Mexican-American woman to be president and CEO of a winery. Bay Area People host Claudine Wong sat down with Amelia and her daughter, Dalia to talk about their journey, and how they're hoping to revolutionize the wine industry by incorporating their Mexican heritage.
~~~
By AltaMed Food & Wine Festival - July 2018
Our second "Road Trip | AltaMed Meets Napa" episode highlights Ceja Vineyards located in the Napa and Sonoma valleys. The Ceja family owns 113 producing acres and in 1999 they founded Ceja Vineyards, Inc.
~~~
By Diane Peterson, The Press Democrat - December 12, 2017
American cuisine has been enjoying its moment in the sun recently as our relatively young country reaps the benefits of the revolution that started more than 45 years ago in the Bay Area when "eat local" maven Alice Waters opened Chez Panisse.
Last year, New York chef Mario Batali published a "Big American Cookbook" as a tribute to his favorite regional dishes, from San Diego Fish Tacos to Boston Cream Pie.
This year, Washington Post Food and Dining Editor Joe Yonan has upped the ante, collecting recipes from 100 food personalities across the country for "America the Great Cookbook: The Food We Make for the People We Love from 100 of Our Finest Chefs and Food Heroes." (Welden Owen, $40)
Purchase America the Great Cookbook on Amazon
~~~
By Jackie Mansky; Smithsonian.com - July 26, 2017
That first taste of the merlot grapes was succulent. Amelia Ceja was 12. It was 1967, and she had just immigrated to the Napa Valley from Jalisco, Mexico. Her father, who had come to the United States several years earlier in search of a better life, had sent his family a postcard inviting them to join him.
~~~
By Dave McIntyre; Photographs by Marvin Joseph, The Washington Post - May 30, 2017
They came from Michoacan or Jalisco, two agricultural provinces near Mexico City. Their fathers left for El Norte as migrant workers — some under the Bracero guest-worker program, others crossing the border illegally but gaining legal status in a time when papers were easier to come by. They worked in California's burgeoning agricultural industry before settling in wine country.
~~~
By Roger Morris; Photographs by Jon Mcferson, Intermezzo Magazine - Issue 39, 2016
It is a long way from the mountains of Jalisco, north of Guadalajara, where Amelia Morán Ceja was born and spent her early years, but she still rembembers the vivid colors, aromas and flavors of her childhood there - and still collects them daily in her garden and kitchen in the Carneros, the former sheep-grazing area where Napa Valley eases into the wetlands of San Pablo Bay, east of San Francisco.
~~~
By Olivia Santini, Jim Seida, Jon Sweeny and Sandra Lilley, NBC Latino, "One Heritage, Two Generations"- September 2016
As part of NBC Latino's "One Heritage, Two Generations" series during Hispanic Heritage Month, the mother and daughter share how their Mexican roots have strongly influenced their family's upbringing as well as their work and their product.
~~~
By Bill Swindell, The Press Democrat, "Drinking Stories" - June 7, 2016
In this episode, Bill speaks with Amelia Ceja, a Latina trailblazer in the North Coast wine industry. Her life has been the epitome of the American dream. She came from Mexico as a child and worked in celebrated Napa vineyards. She later joined her family's winery, Ceja Vineyards, doing various jobs that led up to her becoming president in 1999. She also is an expert on food, especially what wines to pair with Mexican cuisine.
~~~
By Sasha Paulsen, Napa Valley Register - May 2, 2016
Amelia Morán Ceja's career as president of Ceja Family Vineyards has her often traveling the world. Still, she said the invitation to the nation's capital was "pretty special." The Smithsonian National Museum of American History invited Ceja, an avid cook and advocate of Mexican cuisine, to participate in its "Cooking Up History" program. The museum installed a demonstration kitchen in 2015 "to connect food programming to its many objects and research initiatives surrounding food's place in history."
~~~
By Earth Justice - September 2015
Some two million farmworkers grow and harvest our food each day, often working in fields sprayed with pesticides. Former farmworker Amelia Moran Ceja demonstrates that stewarding the land and your workers can be good for business. :Mindful Vineyards" features leaders and advocates from the business, labor and environmental communities, who honor the legacy of Cesar E. Chavez and call for justice in agriculture and protections from pesticides for some of most vulnerable workers in the nation.
~~~
By Annabelle Pericin & Tamara Gorman; Photography by Vincent Gotti, Gastronomique En Vogue - May 8, 2015
March is typically a month where rain is part of the forecast but on this particular sunny Sunday, GEV is shooting their first mother daughter cover featuring Amelia and Dalia Ceja at Ceja Vineyards in the Napa Valley.
~~~
By Mike Dunne, The Sacramento Bee - April 21, 2014
For the first time in 20 years, Amelia Moran Ceja is in Cabo San Lucas, the sunny resort settlement at the southern reaches of Mexico's Baja peninsula. She's finding that the town no longer is a dusty little fishing village as she marvels at the string of hotels, golf courses and restaurants along the 20 miles of beach stretching northeast along the Sea of Cortez to San Jose del Cabo.
~~~
By NBCLatino - June 9, 2013
Amelia Ceja spoke to Today show's Kristen Dahlgren about her journey from a small village in Mexico to California, where she discovered the love of winemaking and is living the American Dream.
~~~
By Office of Public Affairs, Growing California Video Series - March 12, 2013
The latest segment in the Growing California video series, a partnership with California Grown, is Love on the Vine, a story about a family that started as farmworkers and now owns and operates a Napa Valley winery.
~~~
By Joel Millman, The Wall Street Journal - August 24, 2012
In 1967, Amelia Morán Ceja emigrated to the U.S. to join her father, a farmworker who toiled for years in California's vineyards. Today she's crossing another border, turning upwardly mobile Latinos into wine aficionados is with her subtle blend of viticulture, down-home cuisine and a Web-based marketing campaign.
~~~
By L. Pierce Carson, Napa Valley Register - August 20, 2012
The Ceja family would like to change the way people eat. Parents and children alike in this wine-centric house believe it's important for families to gather around the kitchen table, to take adequate time to enjoy a meal together, to share both highs and lows in one another's lives.
~~~
By MSN re:discover Insider Profiles - Summer 2011
Dalia Ceja often jokingly tells people, "I don't have blood in my veins, I have wine." Wine has certainly been a part of Ceja's life for as long as she can remember. As a little girl, the Napa-area native remembers playing amid the family vineyards alongside her brothers. In some ways, the 27-year-old still sees the vineyards as her personal playground.
~~~
By Risa Wyatt, Wine Enthusiast Magazine - Issue: March 2009
So... what's it really like inside the Obama White House? Amelia and Dalia Ceja of Ceja Vineyards in the Napa Valley had a look recently on a private, two-hour tour of the Executive Mansion. The visit was hosted by Daniel Shanks, the usher in charge of food and beverage at the White House since the Clinton administration in 1995.
~~~
By Risa Wyatt, Photos by Victoria Yee, Wine Enthusiast Magazine - Issue: Best of Year 2007
There is probably no more compelling seasonal image than a festively decorated table groaning under an array of food and wine and ringed with upbeat revelers. The holidays typically take center stage for any gourmand worthy of the title; it's an opportunity to bring family and friends together for a show-stopping array of special dishes and coveted sips from the cellar.
~~~
By Nicole Gull, Inc. Magazine - January 2005
In 1967, a young couple named Pablo and Juanita Ceja left their small village in Michoacan, Mexico, for a new life in the United States. Like many migrants, they wound up in California's Napa Valley, where they found jobs picking grapes in the local vineyards.
~~~
By Eric Asimov, New York Times - October 17, 2004
NAPA, Calif. - When Amelia Morán Ceja and her brother-in-law Armando Ceja look out at the vineyards around her house, they can also see the past, when their fathers traveled from Mexico to harvest fruit in stifling heat for meager wages. Ms. Ceja can still feel the grape juice on her hands, made raw from helping her father tend the vines in fields just like these.
~~~
By Carol Ness, The San Francisco Chronicle - May 1, 2003
Shrimp are marinating in cayenne and paprika. Serrano chiles are going under the knife for the sake of the guacamole. Longaniza sausage is giving up its fat in a frying pan. A feast of Mexican home cooking is in the works in the Ceja family's kitchen. And there's not a margarita nor Dos Equis in sight.
~~~
By David Shaw, Los Angeles Times - February 5, 2003
Lunch begins with lightly smoked salmon. "You have to drink our 2000 Chardonnay with it. It comes from right out there." Amelia Moran Ceja is standing at the stove in the family kitchen, gesturing toward the vines 250 yards from her front door in the Carneros district of southern Napa.
~~~
By Jeff Morgan, Wine Enthusiast Magazine - June 2002
Until she was 12 years old, Amelia Ceja lived in the small Mexican village of Las Flores—population 60—about 350 miles northwest of Mexico City. There was no electricity or running water. "We took our water from the river," Ceja, now 46, recalls.
---
All Press Articles
By L. Stephen Velasquez, smithsonian.com - October 5, 2019
Growing up in Jalisco, Mexico, family and heritage was very important to Amelia Ceja, who reveled in the bounty of her grandparents' farm and gardens, picking fresh fruits, vegetables and herbs to cook with her abuelita.
~~~
By Bob Cooper, Nob Hill Gazette - September 5, 2019
Amelia Moran Ceja was raised to dream big, so it came as no surprise to her dad, Felipe Moran, when she made a bold declaration while they worked in a Napa Valley vineyard.
"One day I will have a vineyard," she told him, to which he replied, without a hint of condescension, "Of course you will." Now 92 and still living in Napa, Felipe had marched with Cesar Chavez and later headed the United Farm Workers. He embraced the union's unofficial slogan, Sí, Se Puede ("Yes, it can be done"). Like father, like daughter, as young, ambitious Amelia would eventually get that vineyard and much more.
~~~
By Kat McCue, BeLatina - February 20, 2019
After decades of working as farmhands in California wine country, it should come as to no surprise that Latinos have ascended the ranks of winemaking to become their own bosses, running their own vineyards with their top-to-bottom experience in viticulture. With titans like Mondavi having been credited with defining an era modern American wine, it's easy to overlook the reality that the Latino community's ties to the wine industry run just as deep and are just as strong as the ties of the landowners.
~~~
Escrito por Nayeli Estrada, Reforma - Viernes 21 de Septiembre del 2018
Amelia Morán nació en Las Flores, una localidad en los Altos de Jalisco, sin agua potable ni electricidad. Bajo la tutela de su abuela, Mamá Chepa, tejió un vínculo con la agricultura y alimentó a su familia con la cosecha de su propio huerto. A miles de kilómetros de distancia, en California, Oregon y Washington, Felipe, su padre, también sembraba.
~~~
By Roger Morris; Photographs by Jon Mcferson, Sip Magazine - Issue 8, 2016
At harvest time each year, the Ceja family celebrates the American dream, Napa Valley Style. There is a promising crop of grapes on their 113 acres of vineyards which they use both to make into their Ceja brand wine and to sell to other winemakers. In addition, their family garden is overflowing with fresh tomatoes, peppers, beans another vegetables.
~~~
By Peg Melnik, The Press Democrat - September 2, 2016
Amelia Moran Ceja wants you to challenge yourself. The president of Napa Valley's Ceja Vineyards told a crowd of about 350 at the Luther Burbank Center in Santa Rosa Thursday to "do something bigger than yourself." "I want all of you to find something that makes you feel uncomfortable and go out and do it," she said. "The only one who can stop you is you."
~~~
By Jeff Quackenbush, The North Bay Business Journal - April 18, 2016
The family started Carneros Brewing Company in 2011 and currently produces around 1,000 barrels per year. However, the microbrewery has the capacity to increase production to 5,000 barrels or more, as demand warrants. With it's first bottling line recently up and running and a deal jelling for distribution to a major beverage-alcohol chain, the brewery has demand frothing.
~~~
By Ellen Bhang, The Boston Globe - April 25, 2015
Earlier this month, Amelia Moran Ceja, the first Mexican-American woman to head up a wine production company, visited Boston. Between sales calls, the president of Ceja Vineyards in Napa, Calif., made her way to Walden Pond. "I could almost hear Henry David Thoreau's words describing the seasons," says the literature and history buff.
~~~
Photos By Erin Kunkel; Styling By Nissa Quanstrom, Sunet Magazine - October 2013
We're thrilled to have some of our favorite family recipes featured and photographed by Sunset Magazine. The recipes include our citrusy salmon ceviche, eggplant salsa, easy lamb birria and Mexican mussels with sausage, mushrooms, and chiles.
~~~
By Jessica Yadegaran, San Jose Mercury News - June 3, 2013
Dalia Ceja wants you to put down that Corona and reach for a Carneros chardonnay instead.
Ceja, the social media guru for her family's Napa winery, Ceja Vineyards, has made it her mission to shift the public's perception -- and our palates' inclinations -- when it comes to Mexican food and drink.
~~~
By Nancy Hawks Miller, Napa Valley Rgister - November 21, 2011
For Amelia Morán Ceja, of Ceja Vineyards, food is love. Born in Las Flores, Jalisco, an agricultural village in Mexico, Ceja said her happiest memories go back to the kitchen on the family farm, helping her grandmother prepare meals.
~~~
By Catherine Seda, Napa Valley Register - June 09, 2011
Dalia Ceja had a decision to make. After graduating from San Francisco State University in 2008 with a degree in marketing and communications, living and working in San Francisco, and then traveling to South America, Ceja had to decide whether and when she would join the family business.
~~~
By Annette Hanami, Napa Valley Insider Examiner - April 16, 2010
Arriving at Ceja Vineyards on a cool spring morning, one is struck by the impeccable landscaping – just one of many signs that the Cejas take pride in their work. Ceja was founded by Amelia and Pedro Ceja, Pedro's brother and winemaker Armando Ceja, and his wife Martha.
~~~
By The Tasting Panel Editorial Team - Issue: January-February 2010
As one of the few Latina women in wine in California, Amelia Ceja is determined to help shape the future of the consumer's comprehension of—and abilities in—pairing food and wine. "I want to be thought of as being instrumental in breaking down the barriers of the mystification of wine," says Amelia, who was appointed President of the Carneros-based winery when it was founded in 1999.
~~~
By Tilar Mazzeo, Food & Wine - April 2009
My husband and I lived in Sonoma for six years. I loved our life, and I loved Sonoma, so much so that I wrote a travel guide to Sonoma's small family wineries. Then, in 2007, my husband announced over dinner one night—and with heartbreaking appetite—that he wanted a divorce. I fled to New York for nine months, but I had to return to California because I had promised my publisher another travel guide, this one to the small family wineries of Napa.
~~~
Por Bernardo Mendez Lugo, Enlace Mexico Express - March 2009
Napa y Sonoma, California - El apellido Ceja se ha convertido en sinónimo de buen vino, no solo para los conocedores y catadores de vino en Estados Unidos sino a nivel mundial.
~~~
By Risa Wyatt, Wine Enthusiast Magazine - Issue: February 2009
In Washington DC, the Napa Valley is not just the toast of the town—wines from the acclaimed viticultural region delivered the first toasts to Barack Obama as 44th President of the United States.
~~~
By Jennifer Huffman, Napa Valley Register - January 30, 2009
A work of art depicting more than 8,000 years of viticultural history may not seem a likely fit on a 4-by-14 foot canvas, but that didn't stop artist Maceo Montoya. Montoya was commissioned by Ceja Vineyards to create a mural of the history of winemaking, from 6,000 B.C. to today.
~~~
By Jeff Quackenbush, North Bay Business Journal - June 30, 2008
Passionate and fearless could equally describe Amelia Morán Ceja, president of small upscale wine producer Ceja Vineyards. The first Mexican-American woman to run a wine production company, Ms. Ceja is proud of her cultural and culinary heritage.
~~~
By L. Pierce Carson, Napa Valley Register - March 7, 2008
As far as the Cejas are concerned, it's not only about wine. Their decision to locate an inviting, elegant tasting salon in downtown Napa came from a desire to provide the community with an opportunity to explore Latin culture through the arts, through cuisine, as well as through the family's approach to winegrowing.
~~~
By Sasha Paulsen, Napa Valley Register - October 31, 2006
"It's one of my favorite dishes in the world," Amelia Ceja declared as she surveyed the spread at the family winery's new tasting headquarters in Carneros. There, on a perfect autumn afternoon, 24 young food and wine professionals were gathered around the outdoor kitchen where the Ceja family had set out all the fixings for tostadas in what one guest called "a serious spread."
~~~
Por Lucero Amador, La Opinión - Febrero 7, 2006
Adonde quiera que va, Amelia Morán-Ceja lleva muy en alto el nombre de su compañía. A ella no le interesa lucir adornos que la hagan ver como una gran ejecutiva, aunque lo es. En toda su ropa de trabajo tiene grabado el logotipo de Ceja Vineyards.
~~~
By Jim Wasserman, Sacramento Bee - January 8, 2006
NAPA - The afternoon sun hung low over the Ceja family's vineyards and beamed through the window of the tasting room, warming a hardwood table filled with Mexican food and wine produced by farmworkers who realized the unlikely dream of becoming owners.
~~~
By Alan Goldfarb, Appellation America - August 29, 2005
She's a five-foot tall colossus of whit, strength, enthusiasm and intelligence. But most of all, Amelia Morán Ceja possesses in her diminutive body, enough energy to power the electric grid of the entire Napa Valley.
~~~
By Alan Goldfarb, St. Helena Star - July 14, 2005
She's a five-foot tall colossus of wit, strength, enthusiasm and intelligence. But most of all, Amelia Morán Ceja possesses in her diminutive body enough energy to power the electric grid of the entire Napa Valley.
~~~
Por Amelia Morán Ceja - Mayo 9, 2005
Napa (California) – El sueño de tener nuestra empresa de produccion de vino propio viñedo esuna realidad para mi familia mexicana de Napa. Ceja Vineyards se fundó en 1999 y en menos de cuatro años, se ha hecho un nombre por su calidad y compatibilidad con la comida mexicana e internacional. Yo fuí elegida primera mujer mexicana presidenta de un viñedo de la región de Napa y Sonoma.
~~~
By Roger Morris, DelawareOnline.com - October 20, 2004
Amelia Morán Ceja met her husband, Pedro Ceja, when both of them were Mexican-born teenagers whose families had immigrated to Napa Valley. As Hollywood might have it, both were working in the same vineyard as teens. Today, Amelia is president and chief ambassador for Ceja Vineyards, and Pedro and his winemaker brother, Armando, are co-owners.
~~~
By Jack Heeger, Napa Valley Register - June 7, 2004
Amelia Morán Ceja is a woman who is always on the move. When she's not on the road selling Ceja Vineyards wines, she's in her office doing the multitude of tasks that a winery executive must do. She's also a chef, preparing Mexican dishes for visiting dignitaries and for friends whom she frequently entertains at home.
~~~
By Deborah Scoblionkov, Philadelphia Inquirer - April 01, 2004
A generation ago, many Americans viewed wine as the purview of pompous white guys in tuxedos sipping claret from crystal glasses. The only ethnic market for wine was Italian immigrants. African Americans and Hispanics were invisible to the wine world.
~~~
By Linda Murphy, San Francisco Chronicle - August 28, 2002
They come from Michoacan, Jalisco and Zacatecas, from tiny farming villages like Haro, Las Flores and Aguililla, where they grow corn, beans and fruit and get barely enough compensation to make ends meet.
~~~
By L. Pierce Carson, Napa Valley Register - May 1, 2002
It comes as no surprise that one of the newest entries in the local wine trade is Napa's Ceja family. Virtually raised in and around Napa Valley vineyards, brothers Armando and Pedro Ceja spent after-school hours and summer vacations learning how to graft grape varieties, prune vines and taking part in the harvest every fall.
---
Downloads
By Ceja Vineyards - Updated July 2018