Pedro Ceja | Co-founder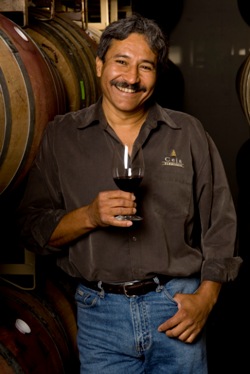 If there's a way to build it, Pedro Ceja will find it. Coming as he did to the Napa Valley at the age of 12 and working with his father—a bracero—Pedro's heart has always been in Napa's vineyards. Even as he began his training in electrical engineering at Napa Valley College, Pedro and his younger brother Armando kept a laser focus on their ultimate goal of bringing together the skills and assets necessary to launch Ceja Vineyards.
"Creating a beach with one grain of sand at a time is a lot of work," says Pedro with the hint of a smile. Not one to dwell on the past, Pedro brings a forward-looking practicality and analytical eye to the family's expanding wine fortunes. As Pedro unfurls the architect's rendering of the new winery building that Pedro designed many times in his mind over the years, there's an understated pride in his explanation of each detail. There's also a sense that this milestone in the life of the family is only the beginning of a long future that Pedro can already see.
It's that vision that kept Pedro focused for seven years during his commutes from Napa to San Jose. Without the extra money that the distant job brought, the family would have lost the 25 acres that represents three generations of a family dream—their first vineyard. "Amelia wasn't too crazy about that arrangement," he recalls, giving his wife credit for keeping their three children focused on education during those commuter years. "Certain decisions," he reflects, "change the course of life."
Pedro's father, who began working St. Helena vineyards in the 1950s, was of similar disposition. "I grew up in a small village," explains Pedro, who enjoyed a traditional extended family childhood in rural Mexico with five siblings (four more were born in St. Helena), and saw his father once a year if times were good. "Economically, we were a humble family," he recalls, "but because of what my father did, we were more privileged than others. Our entertainment was to go swimming, ride a donkey, catch a chicken. It was close to nature, and I think that's what drives to me to be engaged in farming."
The transition to a new life wasn't easy, but when Pedro arrived in St. Helena, the quiet 12-year old who could fly in his dreams began to feel that he and his family were already making great wine. Each family member had the same goal: translating that emotional connection to the vines they tended into a wine they could share with others. "How to get there," he smiles, "there we've had a few differences. But we need to recognize and put aside personal ego. To me, it's always been about the us and we."
Pedro knows from his work as an engineer that even the simplest product represents a lot of skill and work. Sometimes it's accomplished by a single person, but wine is unique, he says, because it takes a family to make a barrel of wine. One individual doesn't have all the talents and skills to do it all. Pedro smiles as he sets up an example: "Armando makes the wine, Amelia sells the wine, and I drink the wine."
Pedro rolls up the architect's plans. "There's nothing more rewarding than turning around and seeing the change," he says, looking toward the new winery site. The challenges of acquiring the land in 1983 and the triumph of the first harvest in 1988 required monumental trust and confidence, in themselves and in each other.
That dynamic hasn't changed. "It's evident every day that we need to collaborate," acknowledges Pedro. But 20 plus years of experience in building the winery's reputation makes projects like constructing a new facility, and venturing into new areas of winemaking and marketing seem more like an adventure than daunting work.
"I feel very fortunate to participate in this industry," concludes Pedro. "There's enough room for all our family to pursue their personal interests. By the time they're ready to take over," he says with quiet confidence, "the next generation will be able to take Ceja Vineyards to the next level."