Black Bean and Corn Salad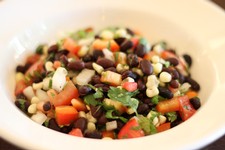 Recipe Date:
January 1, 2015
Measurements:
Imperial (US)
Ingredients
2 (15-ounce) cans black beans, rinsed and drained
1 1/2 cups of fresh or frozen corn
2 tomatoes, chopped
1 red bell pepper, seeded and chopped
1/2 small red or white onion, chopped
1 jalapeño, finely chopped
1 serrano pepper, finely chopped
1/2 cup chopped fresh cilantro
1/4 cup fresh lime juice
1 tbsp olive oil
2 tbsps pickled jalapeño peppers vinegar
1 tsp ground cumin
2 garlic cloves, minced
Salt and freshly ground black pepper
Directions
In a medium bowl, combine black beans, corn, tomato, bell pepper, onion, jalapeño pepper, serrano pepper and cilantro. In a separate bowl, combine lime juice, oil, cumin, minced garlic and jalapeño vinegar – drizzle over bean mixture and mix well. Season with salt and pepper and serve over a bed of arugula, with tortilla chip or as a side dish.