Chicken Skewers with Spicy Peanut Sauce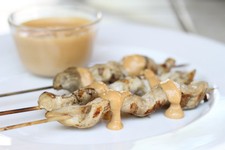 Recipe Date:
January 1, 2015
Measurements:
Imperial (US)
Ingredients
- For Chicken Skewers
1/2 cup low-sodium chicken stock
1/2 cup lite coconut milk
2 tbsps low-sodium soy sauce
1 shallot peeled and thinly sliced
3 cloves of garlic minced
1 1/2 tsps Thai fish sauce
1 tbsp brown sugar
1 lime
1 tbsp minced ginger
1 lb skinless boneless chicken breast pounded slightly and cut into 1-inch strips
- For Peanut Sauce
1/2 cup natural creamy peanut butter
1/4 cup low-sodium chicken broth
3 tbsps low-sodium soy sauce
1 1/2 tbsps brown sugar
1 1/2 tbsps minced ginger
2 tbsps lime juice
1 tsp garlic minced
1/2 tsp chili flakes
1 tsp red curry paste
1 shallot peeled and roughly chopped
Directions
Mix chicken strips with marinade ingredients in bowl and let sit in refrigerator for 30 minutes.
In a blender, add all peanut sauce ingredients and blend until smooth.
Skewer chicken strips using bamboo skewers (soak skewers in water for 15 minutes prior to use so that they do not burn) and place on heated grill turning often until done. Serve with peanut sauce and enjoy!
Additionally, feel free to skewer and grill an assortment of chopped zucchini, mushrooms and eggplants that have been lightly brushed with olive oil and sprinkled with salt.