Chilaquiles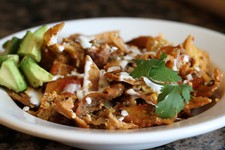 Recipe Date:
January 1, 2015
Measurements:
Imperial (US)
Chilaquiles are a traditional Mexican dish. Typically, corn tortillas cut in quarters and lightly fried are the basis of the dish. Green or red salsa or mole, is poured over the crispy tortilla triangles, called totopos. The mixture is simmered until the tortilla starts softening. Eggs (scrambled or fried) and pulled chicken are sometimes added to the mix. The dish is topped with cheese (typically queso fresco) and/or sour cream (crema), and it is served with refried beans.
Like many dishes, regional and familiar variation are quite common. Usually, chilaquiles are eaten at breakfast or brunch. This makes them a popular recipe to use leftover tortillas and salsas. Moreover, chilaquiles are often lauded as a cure for the common hangover; this is because in Mexico it is believed that spicy foods help in the recovery process from a hangover. This can be attributed to the body's reaction to chemicals released (chiles contain the chemical capsaicin, a potent and well-documented pain reliever).
Ingredients
2 dozen corn tortillas each tortilla cut into 8 wedges
10 beaten eggs
corn oil
salt to taste
3 lbs tomatoes coarsely chopped
3 jalapeño peppers coarsely chopped
3 minced garlic cloves
3 tbsps olive oil
1 medium white or yellow onion coarsely chopped
Cotija cheese or queso fresco
Crema Mexicana or créme fraiche
cilantro chopped
avocado sliced
Directions
For Spicy Tomato Salsa
Place coarsely chopped tomatoes and jalapeño peppers into a saucepan then add 2 cups of water and bring to a boil. Simmer for 20 minutes. Remove cooked tomatoes, jalapeño peppers and the cooking liquid from saucepan into a blender. Add minced garlic cloves and pulse until blended but not puréed. Then add 2 tbsp of olive oil to a medium hot sauté pan. Add in the coarsely chopped onion and cook for 5 minutes. Add the contents from the blender and bring to a boil. Reduce heat and simmer for 10 minutes. Season with salt and pepper to taste.
For Chilaquiles
In a large sauté pan, coat pan generously with corn oil (1/4 inch), heat to medium high to high. When the oil is hot, add 1/2 of the tortillas, and fry until golden brown. Remove tortillas to a paper towel lined plate to soak up excess oil. Repeat the procedure with the rest of the tortillas. Wipe pan clean of any browned bits of tortillas.
Add 3 tbsp olive oil to pan and bring to medium heat. Add the fried tortillas then pour the beaten eggs over them. Stir with a spatula to coat the tortillas with the beaten eggs and cook until eggs are set (about 5 minutes). Now add in spicy tomato salsa and stir until most of the salsa is absorbed by the tortilla-egg mixture (about 5 minutes). Add salt and pepper to taste. Cook for a few more minutes. Serve immediately and garnish with crumbled Cotija cheese or queso fresco, Crema Mexicana or crème fraiche, chopped cilantro and an avocado slice.