Chipotle Hummus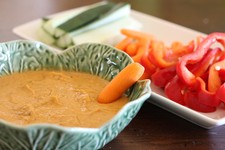 Recipe Date:
January 1, 2015
Measurements:
Imperial (US)
Ingredients
1 can garbanzo beans, rinsed and drained (keep 1/4 cup of the liquid and set aside)
2 tbsps tahini (sesame paste)
4 tbsps lemon juice
1/2 tsp reduced-sodium tamari
1/2 tsp ground cumin
1/2 tsp smoked paprika powder
1 chipotle chili in adobo sauce
2 fire roasted garlic cloves
1 fire roasted Serrano chile
Salt to taste
Directions
Char the garlic and Serrano chile over an open flame or use a flat griddle. Add to a food processor followed by all the other ingredients. Blend all ingredients for one minute. Transfer hummus to a bowl and feel free to serve immediately or chill in the refrigerator for later consumption. Devour hummus with veggie sticks, chips, pita bread, etc. It's time to get your snack on!