Churros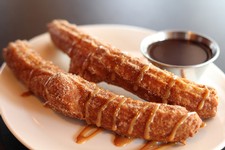 Recipe Date:
January 1, 2015
Measurements:
Imperial (US)
Ingredients
2 1/2 cups water
1 1/2 cups flour
1 stick of butter
4 eggs
2 tbsps sugar
1 tbsp salt
vegetable oil
Directions
Bring water to a boil in medium sized pot. Add in butter and let melt. Add in flour and mix rapidly until dough is formed. Reduce flame and add eggs to pot one at a time mixing thoroughly by hand. Then mix in sugar and salt. Let dough cool for a few minutes then place dough in a frosting dispenser with a wide tip.

***If you don't have a fryer, buy a candy thermometer to measure the temperature of the oil. Be extremely careful when frying.

Add 3 cups of vegetable oil to a saucepan and bring oil up to 350 degrees F. Slowly squeeze out churro batter from frosting dispenser into pieces 6 or 7 inches long and carefully drop into oil without splashing. Using tongs, slowing turn over churros. Fry churros for 8 to 10 minutes. Once done, allow churros to cool on paper napkins for a minute or two to soak up excess oil.

For Sugar Coating
Mix together a few tablespoons of sugar and cinnamon. Roll churros in this sugar/cinnamon mixture.

For Chocolate Sauce
• 4 oz of semi-sweet chocolate, chopped
• 2 cups of milk
• 1 tbsp of cornstarch
• 4 tbsp of sugar

Place chocolate and 1 cup of milk in pan and heat on low. When chocolate has melted, dissolve the cornstarch in the remaining cup of milk and whisk into the chocolate with sugar. Cook on low heat whisking constantly until the chocolate is thickened (about 5 minutes). Mix in extra cornstarch if necessary. Once done, pour all over churros!