Cocadas or Coconut Macaroons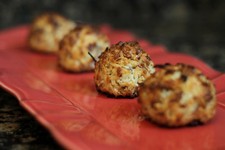 Recipe Date:
January 1, 2015
Measurements:
Imperial (US)
Ingredients
3 1/2 cups shredded sweetened coconut
1/2 cup sweetened condensed milk
1 cup chopped pecans
1/2 tsp vanilla extract
1 tsp cornstarch
Directions
Preheat oven to 400 degrees F. In a mixing bowl, stir together the coconut, cornstarch, condensed milk, pecans and vanilla extract. Let the mixture sit for 3 minutes. Roll two tablespoons of mixture into miniature balls and place them onto a parchment lined cookie sheet about 1- inch apart. Bake for 15-20 minutes or until lightly golden brown (watch closely). Remove from oven and cool for 10 minutes.
Cocadas are a typical coconut candy or cookie that is served in Mexico, Brazil and over much of Latin America. They are oven baked but are served at room temperature to obtain their chewy and soft texture. Dalia Ceja presents her simple yet yummy version of this famed delight incorporating sweetened condensed milk and vanilla extract. Try cocadas with cafe con leche or a bright dessert wine!